September 12, 2012
Kids Help Organize Recovery Festival
Author's note: kids actually planning and leading an important community effort they really care about... Are you out and about Battle Creek on Sat. 29th? Stop by, check it out, buy some terrific pizza and support a worthwhile, grassroots community initiative. :-) -- Jim R.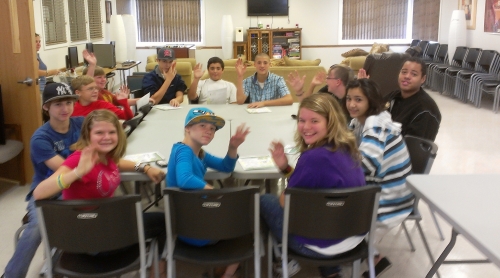 Kids Help Organize Sept 29th
'Voices for Recovery' Festival
Area youth and more than 10 service organizations are joining together to plan and help host a day-long "Voices for Recovery Festival" enhancing awareness and support for programs and people involved in recovery from alcohol, drugs and other forms of addiction.
The Festival, open to all but especially for other youth, will be Saturday, September 29, 11 a.m. to 5 p.m. at Bill's Pizza Factory, 256 Helmer Road (across from airport), and will spotlight live performances by five local musical bands, a Battle Creek Blaze Football clinic for kids, rap poetry readings, kids basketball tournament, a clothing drive for kids' new or gently used items, disk golf demonstration and lessons, face painting and variety of other activities.
Primary sponsors are the Substance Abuse and Prevention Council and the Alano Club of Battle Creek, along with a wide variety of other organizations involved, including The Haven of Rest's Life Recovery Program, Starr Commonwealth, the Drug/Sobriety/Juvenile courts, City Parks and Recreation, the VA Medical Center, CityLincC, Kinetic Affect, Starrstruq Dance Academy, Battle Creek Knights, The Mylstone Project, United Ways and HandsOn Battle Creek.
A planning committee of area youth from the Alano Club's Kids2Kids Program, originally funded by Post Foods and the Battle Creek Community Foundation, has had a central role in planning and in coordinating the activities, according to Danielle Evans, program manager of the Club.
"We are excited by the incredible collaboration by area organizations for the Festival, and because youth – themselves – are actually providing much of the leadership and work for it," Evans noted.
Ten percent of all pizza sales during the Festival will be donated by Bill's Pizza Factory to support the programs and outreach services of the Substance Abuse Council and the Alano Club.
For more information, call the Substance Abuse Council at 968-4699, or contact Evans at 269-317-3874, email: mhd712@sbcglobal.net.