October 13, 2012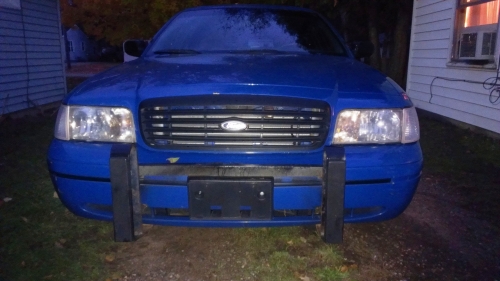 Beast of Burden:
All I want is you to make love to me
Spent yesterday on problems with The Respectmobile, which I'm losing respect for.
It may be the beginning of a failed relationship.
The second month … and she's suddenly the horror car in Stephen King's Christine.
"So, another paycheck, hey, hay, hay, Jim?" she sez this morning.
"Sweet!
"Put it HERE! Right in my glove box envelope marked: "CAR REPAIR BILLS."
"Think you can just ignore me, now you got a litle' bread. Do ya, Jim?
"Maybe find someone N-E-W.
"Faster and who doesn't pass so much gas?
"Sparkly grill?
"Big treads, tush tires?
"Soft back seat?
"A GPS screen on the dash?
"I-Tunes on the radio?"
"More rock and roll between her rack and pinions?
"I'm just that old, old, worn out puta, right, Jim? That was your go-to girl in the tough times, took you to the store, church, carried you safely through snow and sleet all the way back to Missouri to see that brother of yours …
But, Jim, like Mick and Keith sang:
I'll never be your beast of burden
My back is broad but it's a hurting
All I want is for you to make love to me
I'll never be your beast of burden
I've rode for miles my feet are hurting
All I want is you to make love to me

Am I hard enough
Am I rough enough
Am I rich enough
I'm not too blind to see
"You haven't lubed my parts or rubbed your hand caressingly over my rocker panels lately.
"You left me out in the cold last night, Jim. I didn't like that.
"Would YOU like to be left outside? With your doors unlocked? Open, naked, exposed to taunts of the trailer trash and their beer bottles across the street?
"At heart, I'm still a Blue and Black Michigan State Trooper car, police interceptor, a real Crown Vic 4.6 liter V-8, and if pushed could reach that 140-mph peg line again.
See, "I get my props and I get my r-e-s-p-e-c-t. Or…..
'Step outside the car, Sir. Show me your license, insurance and registration. Do it now! Sir.'
"Is that really what you want, Jim?"
"So about that smoke yesterday.
"Those unsightly new drips under my chassis.
"My hiccups, hesitation, when you pushed the gas pedal.
The silence when you tried to turn me on in the Meijers parking lot?
"It's not too late, Jim.
Like Barney sez,
"I love you You love me
We're a happy family
With a great big hug and a kiss from me to you.
Won't you say you love me too."
I love you You love me
We're best friends like friends should be."
Aren't we, Jim?
Don't disappoint me, Jim
October 09, 2012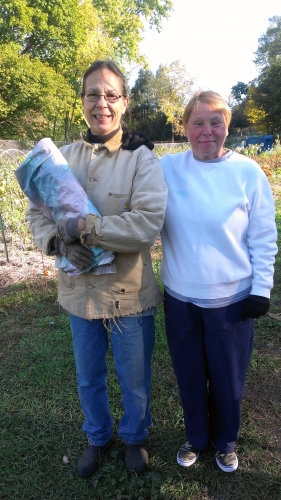 Red Cheeks But Warm Hearts As Volunteers
"WrapUp" Urbandale Community Garden's Season
Photo Caption: Volunteers Kathy Antaya and Pat Graw begin to winterize the one-acre Urbandale Community Vegetable Garden this morning (Oct 9), located as part of the Leila Arboretum campus on W. Michigan Avenue in Battle Creek.
More than 15 volunteers, plus 30 Burmese families, have tended and received produce from the Garden, the largest urban garden in the Battle Creek area, during the past growing season.
The upscale Malia's Restaurant, downtown Battle Creek, has also purchased much of its produce from the site; with proceeds used to support the community garden operation.
Antaya is the informal coordinator of the UCVG and a horticulturalist and green industry consultant by profession. Graw retired after 44 years as a food service manager, including at Bronson-Battle Creek (hospital).
October 04, 2012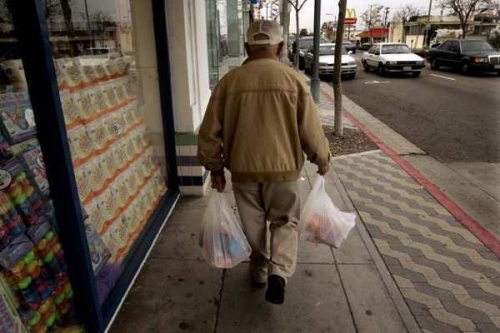 Love's Labor Lost in the Wal-Mart Checkout Line
No, he'd never been in the Wal-Mart superstore.
Until last night.
Using one of those person-less, scan, pay and bag your own groceries checkouts, the old man in faded blue jeans and frayed t-shirt seemed momentarily confused over where to put the credit card; how to scan the groceries.
He felt a sudden presence, or energy, radiating from behind, like heat from a hot stove.
Almost a premonition.
He turned.
A young woman, about 30, with crystal blue, piercing eyes, was standing there.Unseasonably dressed in modish hat and long skirt – like Mia Farrow, Diane Keaton in a Woody Allen movie.
She flashed a wide, innocent, welcoming smile, teeth as white as ocean pearls.
Even more flustered, the old man thought: 'If this is heaven, Lord, let her be my guardian angel.'
His eyes traveled furtively, shyly to hers, then uncontrollably down to an oversized breast badge on her green and white-tinged, herringbone coat.
SISTER PAVOLA
Church of Jesus Christ of Latter Day Saints
He turned back, ashamed he knew not why, to nervously scan bread, peanut butter and cat food, running hand through balding spot on back of head, and tried to keep from stumbling toward the exit door.
October 02, 2012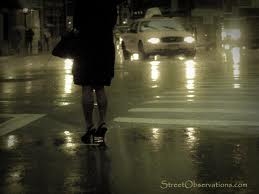 Driving A Cab In Battle Creek: 'I watch their eyes'
Bright lights of the Yellow cab emerged out of the early morning fog and mist, on time, at 6:05.

It's been years since they found that cab driver's body, left stuffed in the trunk, in the Riverside School parking lot.
But the cabbies don't forget.

And lots have changed: Taxi cabs now have a bulletproof, sliding plastic barrier between drivers, and passengers in the back seat.
Rear door locks can be controlled by the driver.

But it's dangerous work. Not much money.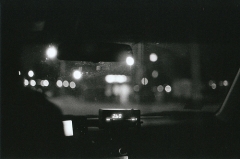 "I rent this thing (cab) from the company. $80 a day plus gas. Anything over that I keep," the cabbie tells me.

"You can make $100 sometimes, if you wanna work a 14-hour day."

Cold days are better than warm.
Rain better than sunshine.
He appreciates the approach of winter.
"People don't like to stand out and freeze waiting for a bus," he says.

"First, Second and Third days of the month, everybody's busy. People get their (SSI or SS) money."

There are usually 8 to 10 'Yellow' cabs on call in BC, plus several other cab companies, if you don't mind the occasional lingering smell of puke in the back seats.

Could he refuse a fare, if worried about getting stuffed in his trunk?, I asked.

"Hey, if we fear for our life, we don't have to pick up nobody," he commented.

How do you decide?

"You get a sense for it after a while.
"Time of day.
"Where they want to go. "
Who'se with them.
"I always, always watch their eyes."
I pay the fare, push a $4 tip through the glass cutout, thinking that, race and class may also be silent passengers in many a cab ride.