October 09, 2012
Red Cheeks But Warm Hearts As Volunteers 'WrapUp' Urbandale Community Garden's Season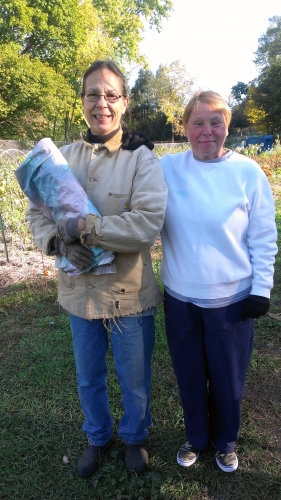 Red Cheeks But Warm Hearts As Volunteers
"WrapUp" Urbandale Community Garden's Season
Photo Caption: Volunteers Kathy Antaya and Pat Graw begin to winterize the one-acre Urbandale Community Vegetable Garden this morning (Oct 9), located as part of the Leila Arboretum campus on W. Michigan Avenue in Battle Creek.
More than 15 volunteers, plus 30 Burmese families, have tended and received produce from the Garden, the largest urban garden in the Battle Creek area, during the past growing season.
The upscale Malia's Restaurant, downtown Battle Creek, has also purchased much of its produce from the site; with proceeds used to support the community garden operation.
Antaya is the informal coordinator of the UCVG and a horticulturalist and green industry consultant by profession. Graw retired after 44 years as a food service manager, including at Bronson-Battle Creek (hospital).