November 23, 2012
Black Friday or Dark Day at Wal-Mart's Big House
Black Friday or Dark Day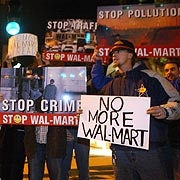 at Wal-Mart's Big House?
Yesterday at Thanksgiving Dinner with friends, we got into a discussion about the employee boycott today over wages at some Wal-Mart Stores, now America's largest private employer.
Does Wal-Mart have a responsibility to pay "a living wage"?
What is a "living wage?"
Where does personal responsibility come in at life decisions points which impact income? Decisions like finishing high school, going to college, showing up on time for a job?
Are we responsible for pulling ourselves up by "our bootstraps" if we had no boots to wear growing up?
What about the uncontrollable influences of family life, racism, and other factors?
We turned off the discussion pretty quick yesterday. Heady, perhaps inappropriate, topical stuff for Stuffing and Turkey Day.
To be honest, at age 68, I remain conflicted over these questions and what I see and hear – even what I believe.
Over a lifetime, I had my turn grabbing the brass ring, the ride on the corporate merry-go-road – corner offices, world travel, fancy cars, big homes.
I've always told myself I earned that success by hard work, long hours, taking risks, going to graduate school, etc.
But, did I, really?
Looking back, I had many unearned advantages: great parents, direction and hope, values taught and learned, a lot of luck.
More and more people today do not live in that world.
And it seems just too easy to become fatalistic, even hardened to their problems and their lives.
Still, I don't think "a living wage" for the $7.50 an hour Wal-Mart Associates is either the real problem, or the real solution.
If there's a problem and a solution, it has to begin with future generations, with our families, our children, our schools…and their future.
Otherwise, Black Friday is always going to be a dark day for some of us.