November 25, 2012
'Touchdown Jesus' Still Loves You, Frank DeFord
'Touchdown Jesus' Still Loves You, Frank DeFord
Frank DeFord was on the radio early last summer. National Public Radio's Morning Edition.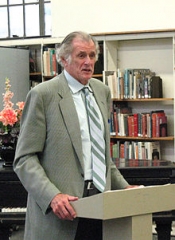 Where DeFord, a much decorated sports guru and journalist, proclaimed in his weekly commentary: "Notre Dame Football Is Dead."

Notre Dame will never compete with the big guys again, he said.
Nada.
Done.
Overwith.
Washed up.
A pigskin has-been.
A legend lost ….
Future Fighting Irish teams would be off tv and traveling coach by Greyhound bus to play Division 2 teams in places like Grand Rapids, Michigan and Duluth, Minnesota.
DeFord's gotten rather quiet since the Fighting Irish took the field in August.
And Wikepedia doesn't say whether DeFord personally follows Christ-as-Saviour or just the baseball box scores.
But, if you learn anything growing up Catholic -- as I did -- it's the power and potential of casting off personal guilt through confession and forgiveness.
Is DeFord ready for confession?
No matter.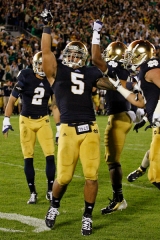 Because, Frank -- wherever you are this morning after the Irish whipped USC, to go 12-0, and be ranked #1 nationally ...
The Fighting Irish made their point last night in Los Angeles,
and Frank, Frank.... Touchdown Jesus Still Loves You.