February 11, 2013
"You Feel So Good There"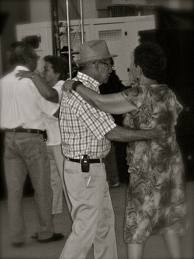 YOU FEEL SO GOOD THERE

"You feel so good there," the aging single male, whispered to his first time date, as he spread four fingers across the valley of her back, caressing, nudging and guiding her, like a beached dolphin back to sea, onto the senior center dance floor.

My long time friend twisted her lips ever so slightly in revulsion and the memory.

"He'd no idea what I was really thinking," she said. "God, I hate dating at my age."