May 08, 2013
"And Make It Look Like An Accident..."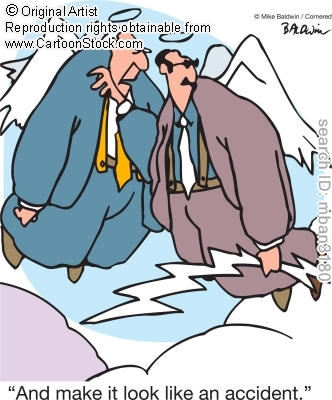 ".... Richmond Struck Dead by Lightening at Local Prayer Breakfast"

At a friend's invitation, I'm attending the 31st Annual Battle Creek Prayer Breakfast this morning, before going on to work. I tell myself, it won't HURT to stretch a bit, like attending funeral wakes, bar and bat mitzvahs, or a friend's retirement party at Eaton's.

But, if breakfast organizers and prayer leaders knew my life background, and some of my views on organized religion, they'd bar me at the doors.

If the Enquirer page 1 headline reads tomorrow: "ATTENDEE STRUCK DEAD BY LIGHTENING AT PRAYER BREAKFAST" you won't have to read below the fold or the jump page to figure out the victim's name.

AND, blogsphere friends, I WILL expect you at my wake Friday morning. "Contributions may be made to the JIM RICHMOND GOOD TIMES FUND, c/o The Las Vegas Community Foundation. All donations will NOT be tax deductible.
---
Author's Postscript. Turned out to TRULY be an inspirational morning, and talk! And no lightening inside or outside the location. :-)