September 17, 2015
Pubic Hair and Public Dancing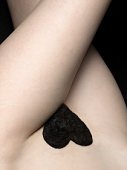 PUBIC HAIR AND PUBLIC DANCING
I was listening over lunch to a female friend the other day, unhappy with the sexual interest and performance of her boyfriend.

"My God, Jim, he even shaves his PUBIC HAIR! How many men shave their pubic hair,?"
Thinking: 'Way-Too-Much-Information-Here,' I successfully steered the conversation to more pleasant, topics -- nuclear holocaust, famine in Sudan, lung cancer rates.
Then, early this morning, the BBC World Service radio is running a program on -- guess what -- not the origin and proliferation of atom bombs -- but women and men shaving their pubic hair.
Now, I wonder how long before this topic gets to the Sunday Morning Talk Shows? Chris Wallace: "SENATOR, DID YOU, OR DID YOU NOT, QUIT SHAVING YOUR PUBIC HAIR?"
Turns out, women and men started shaving (all or most of) their hair with the Egyptians. Every other day, so they'd be ready to party with the Gods, according to the BBC story.
I remember living in San Francisco in 1969, when my wife suddenly decided she no longer wanted to shave any hair. (As an always horny U.S. Navy sailor, home on leave just every 9 months, she could've demanded wearing spurs and copulating standing up, and I'd gone along with it.)
So, just as, over the years, I've learned to GET USED to body hair everywhere, it's going out of style again.
The BBC says shaving of both male and female pubic hair is linked to the rise and spread of Internet porn -- where, allegedly, 30 percent of all online viewers are now women. And where a body with pubic -- or any other hair -- is getting to be as rare as a Kansas City Strip Steak.
That's probably a vicious, mean spirited lie, propagated by the folks at Bob Jones University, where there allegedly is a rule against students having sex standing up, because it might lead to dancing.
I don't think public hair or dancing have much to do with the rise in pornography.
One suspects my friend's relationship problem is about something more than her boy friend's pubic hair.
I'd bet a good counselor would advise her to take him out on the dance floor more often.