March 06, 2014
"Thank You, Father Kloster."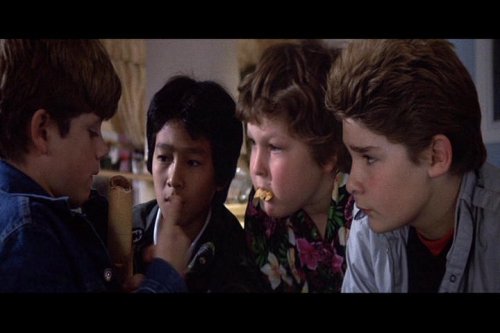 "Thank You, Father Kloster"
In 1961, on a Friday afternoon in the late spring of our junior year in Kansas City's prestigious Jesuit-run, all-male Rockhurst (Catholic) High School, my twin brother and I got kicked out.
At Rockhurst, we weren't academic stars, or very bottom barrel students, either.
Our greatest offense, as I recalled not long ago in conversation with my brother, was filling up those little red "jug" after school demerit detention cards with violations like smoking behind Sedgwick Hall, or sneaking off campus at lunch hour with several classmates for a cheese sandwich at the drug store up Troost Avenue. (For some reason, considered a particularly onerous student crime to School authorities at the time.)
Father Kloster, the School's principal, had marshaled about 20 or so of us junior class low achievers and bottom feeders, in the School's theatre that afternoon, with instructions to sit in the first three rows.
And to shut up.
We expected a rather routine litany of our offenses and dressing down by The Principal, unaware of the danger that faced us that afternoon.
The Rev. Kloster, a tall thin man, fair skinned and white haired, with pencil-like, twitching fingers, stood on the stage, in long, flowing black cassock, nervously tapping the stage floor with black-tipped wood pointer in tight right hand.
Never to miss an opportunity, my brother and I along with about 5 others in the 2nd row, were laughing and cutting up a bit. No spitballs, no profanity, but less than appropriately attentive.
Kloster glared down at our little group, his complexion turning fire engine red, from bottom of neck to top of head.
Suddenly, with a sweep of pointer, he gestured to all 7 of us cutting up in the second row:
"That's it! All of you in the 2nd row!," he yelled. "You're out! You aren't coming back next year!"
And we weren't and we didn't – give Father Kloster his due. No parental pleadings would do.
And he was democratic about it: Those in the second row included several of us from comparatively modest Irish middle class families on Kansas City's lower west side, and guys from wealthy south end families, including the son of one of Kansas City's oldest and most prestigious real estate families.
My parents were furious – at us – but also asked themselves, if not Rockhurst, "Why? And why now? At the end of our boys' junior year?"
My brother and I went on our senior year to attend De La Salle Academy, where we were welcomed by both classmates and the Christian Brothers who taught there, and where we made the Honor Roll.
In fall of that year (1961), we returned to Rockhurst one Friday night to watch our De La Salle high school basketball team play Rockhurst.
We went over to the Rockhurst-side student stands to say "hi" to Jesuit Father Maguire, who was Rockhurst's assistant principal, school disciplinarian and who'd particularly liked both of us for some reason. Perhaps because of our Irish roots.
"Jimmy. Johnny," Father Maguire said to us that evening. "The decision was wrong. But there was nothing I could do about it."
My twin brother and I finished high school at DeLaSalle, then college and have since earned Master's degrees.
We've had successful careers – he as president of a regional hospital, and I as president of large charitable foundations across the United States.
And I've never spent much time, thought or hand wringing, trying to answer those "why" questions.
Looking back on it, maybe Father Kloster was just having a bad hair day.
The incident and experience came to mind, after a recent Kansas City party chat with, as it happened, several Rockhurst alums and school boosters, who were praising content and comparative ROI value of a Rockhurst High School Jesuit education.
I suspect my brother and I, now approaching age 70, have probably done about as well as anyone in the actual 1962 Rockhurst High School graduating class.
And I probably learned a lot from those three years at Rockhurst and that spring afternoon in the school theatre.
But I like to think I learned a lot more, and owe a lot more, to the Christian Brothers, other teachers and senior high classmates at De La Salle Academy in 1962.
Thank you, Father Kloster.