April 03, 2014
Trash Day Blues
TRASH DAY BLUES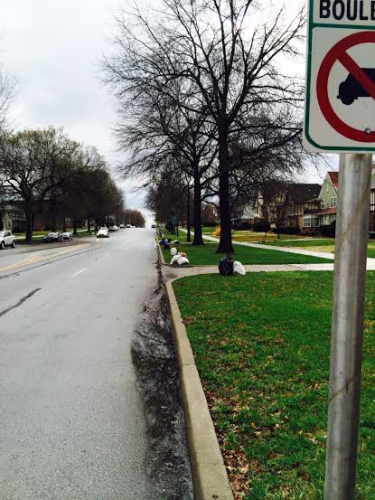 Life changes are full of adjustments, right? It's like your new girl friend only wants that special backrub after the SECOND glass of pinot noir.

Among the changes moving back to Kansas City from Battle Creek, Michigan has been the proper protocol for weekly trash putout and pickup.

As in the photo -- from this morning -- everyone can, does and is LIMITED to putting out two bags of trash and a blue container of recyclables. Lined up looking down the street curb like a crowd waiting for FDR and Eleanor do a drive by.

In Battle Creek, I was used to going out to the curb on Trash Day each week, and the street looked like the day after the fall of Saigon: discarded refrigerators, cardboard casket with someone's mother-in-law inside, the engine from a 1984 Pinto, boxes filled with used tampons and wine bottles, plus eight or nine bags of trash -- all in front of one house.

I truly miss the disorder. I could drive down Broadway Blvd on Trash Morning and write a short story about every house.

I don't know a damn thing about my new neighbors. Where do people hide their dirty linen, drinking habits and trash here in Kansas City?

It aint curbside on Trash Day.