June 15, 2014
Twilight Zone Yesterday?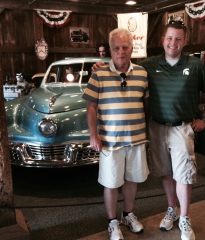 TWILIGHT ZONE YESTERDAY??
The old man, dressed in starched and ironed jeans, shuffled over to us, using a walker.
My son Joshua Richmond and I were standing near one of the famous Tucker cars at the Gilmore Car Museum yesterday in Hickory Corners, Michigan.
Josh and the octogenarian started chatting about the Tucker - a car way, way ahead of its time in 1948 and allegedly partly run out of business by competitors Ford Motor and GM.
I listened -- only half interested -- as they talked about the Tucker's rear-engined and rear wheel drive... perimeter frame for crash protection and many other safety features and innovations.
I was more interested in the old man..... his thin face, slightly bent nose, piercing blue eyes, unusual intensity and air of purpose and control.
He pummeled Josh with questions...and seemed surprised when Josh, in several cases, obviously knew more about the Tucker car than he did...
I said nothing when we then walked out onto the Museum lawn, but thought to myself: "That old guy looked EXACTLY like pictures of Henry Ford in his 80s." (Ford died at age 83, in 1947)
I casually asked my son: "What did you find out about that old man?"
He replied: "Only that he personally owns about 30 of the antique cars in this museum."