October 03, 2014
Hospital Confusion Over Ebola All Too Common
Hospital Confusion Over Ebola Victim All Too Common
Jim Richmond's Note: The Texas hospital screw up in communication between nurses and physicians over background of the Ebola infected walk-in patient is all too common an experience for most of us.
My cousin, a phd educated nurse practitioner and university faculty member, has often cautioned me, and others, "You, a family member or a friend have to be your own patient advocate in the hospital."
In Texas, TV network news are reporting this morning that the doctors and nurses had separate laptop patient information systems. Systems that did not communicate with each other about the Ebola patient's travel history.
So, take with a huge grain of salt, all the Interstate Highway advertising signs by megahospitals about how super efficient and effective they are….
Truth is there are a lot of good, compassionate people working in hospitals. But they make mistakes, like the rest of us. And most big hospitals operate just like most other big businesses.
And when you're a patient in one, you have to not only watch your back but cover your own ass.
Literally and figuratively.
Here's my own little, recent, true experience in back and ass covering at my "hometown" hospital.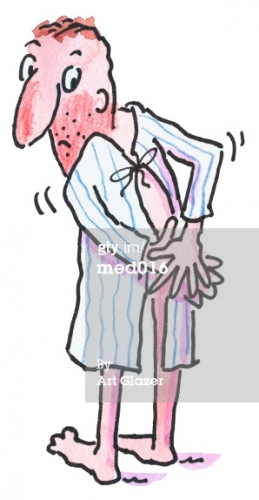 "STAT! STAT! Will The Hospitalist Please Call the Intensivist."
"STAT! STAT! Will The Hospitalist Please Call the Intensivist."
By Jim Richmond
I got wheeled onto a hospital elevator yesterday. The elevator stopped and a middle aged man in a white coat and wearing the physician's stethoscope around his neck, got on.
Funny guy. We bantered back and forth, as the elevator went up the floors.
"A neurologist?" I asked the hospital attendant accompanying me, after the physician got off the elevator.
"No. He's an Intensivist," the attendant replied.
"Is that a new board certified medical specialty?" I pressed on. "What does he DO? Is he anything like being a Futurist?," trying to joke a bit.
"Intensivists are physicians who specialize in treating people in intensive care," he said. "They work with the hospitalists."
"The hospitalists?" I asked.
"Hospitalists are doctors who treat patients in a hospital. They're usually hospital employees. We got lots of them," the attendant said.
"Oh. What about the general practitioners and family docs? The ones who saw you in their office, knew your medical history and problems, and visited you in the hospital. They had something called 'hospital privileges'; and made patient rounds in the mornings," I said.
My wheel chair attendant explained, "Hardly any family docs do hospital visits anymore. It's specialized now."
Yes, I thought. 2 ER doctors, 1 Physician's Assistant, 1 Hospitalist, 1 Intensivist, 1 Charge Nurse, and 2 floor nurses, all asked me the same basic health background questions, while the majority of them also rather frantically typing my answers on their tiny laptops.
"Aren't all your laptops connected in one patient information system? Do you have to ask the same questions over and over again?," I inquired, with a smile, of the CCU nurse.
She seemed, only for a moment, a bit puzzled by my question. "Some hospital staff can only access part of the hospital
records for a patient. You DO want your information to be accurate, don't you?"
"Certainly do," I meekly replied, and a bit intimidated
, checking to see the back of my hospital gown wasnt showing my cheeks.
Lots of hands in the modern hospital pot these days.
Progress and technology move ever forward.
I got excellent care at the hospital, by friendly, very professional people.
But, I still miss Dr. Robert Oakes. Our family physician (now retired), who birthed both our sons, knew all about my bad knee, the kids' childhood illnesses and allergies, and was always at the hospital too, when you needed him.
Dr Oakes was my kind of intensivist.