October 04, 2014
Son Finds Hope After Jim Hazel's Death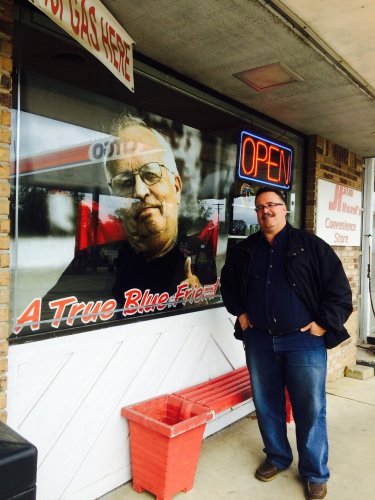 "I want to bring the (Service) Station back to its former glory:
Son Applies Lessons, Finds New Hope After
Iconic Father and Civic Leader Jim Hazel's Death
photos and story by jim richmond
Next week will mark the first anniversary of Jim Hazel, Jr's death, who was a Battle Creek civic leader and booster without peer for decades.
Today, his son Jim Hazel III still runs the Citgo Service Station on Beadle Lake Road that has been in the family for three generations, and which has gone through good times and – more recently – tough financial times.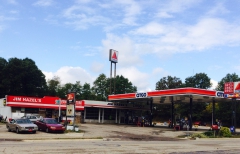 But the sun is out and shining as far as Jim Hazel III is concerned.
After straightening out complicated and inaccurate sales taxes debts on the station totaling $100,000 from the past 15 years, Jim is ready to focus on renovating the station to its "full service" status, with its historical emphasis on local, quality auto repair.
Meanwhile Hazel, at age 50, is studying full-time at Western Michigan University, finishing a degree in telecommunications information management, after already earning an associate degree in law, and a master mechanic's certification. While running the station full-time.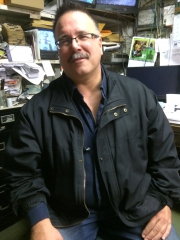 "I was a late starter," he said, laughing, during a recent interview. "My Dad started working in the Station when he was 11 (years old). I was 13."
His father took care of the business side, but his son learned more than how to pump gas and fix flat tires.
"My dad was like the energizer bunny. He worked constantly. And he was a 'connector' in the community. He connected people together to get problems and projects solved in Battle Creek. He also taught me to keep going forward. That you only have so much time in life."
The night before this interview, Jim said he sat in the Harper Creek High School football stadium, near a special area dedicated to and where his father always sat for games.
"It's been a year. But I sat there and teared up over Dad being gone," his son said.
But Jim is moving forward.
And he has high hopes and big plans:
To bring the station back to its glory days.

To give back to the community as a volunteer, as his father did.

And with wife Nancy, to raise their daughter Alyssia, 14, and a Harper Creek High School freshman, in the Hazel family tradition of hard work and putting community before self.
A year has passed.
But, son Jim still has a huge blowup photo of his Dad in the service station's front window, as a tribute and a reminder.
Photo or no photo.
Many in Battle Creek will never forget Jim Hazel.