November 01, 2015
"Time For Change On City Commission?"
TIME FOR YOUTH, NEW ENERGY
ON BATTLE CREEK CITY COMMISSION?
by Jim Richmond
Kate Flores isn't much concerned that her opponent and the incumbent for the City Commission's 3rd Ward has his campaign posters and signs plastered all over the Northside of Battle Creek.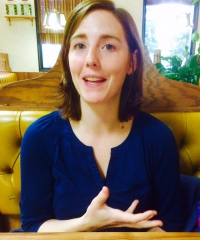 She is one of two high energy, feet on the ground, door bell knocking young professional women who hope to be elected and bring a new level of energy, listening skills and strategic experience to their roles as Battle Creek City Commissioners after next Tuesday's election.
The other is Kaytee Faris, who ran as an at large candidate two years ago, and came within a breathe and a prayer of being elected as one of the four at large Commissioners.
Only a few votes can make huge difference in City elections.
"I'm spending all my time knocking on doors and just listening to people in the 3rd Ward," Flores commented, describing a diverse area that stretches from the Post Addition, to Bailey Park and as far west as Fremont Elementary School.
"Yard signs and posters aren't as important as getting out and talking with residents."
She admits to not "knowing all the details" about current city issues like the Battle Creek Unlimited/City/TIFA scuffle.
"I'll have steep learning curve. But I'm a quick learner, with experience in policy level decision making – which is the primary role of the Commission," she said. "And I'm a good listener."
Flores is a graduate of the University of Michigan with a degree in social sciences and international development, and earned a masters degree in community development from the University of Toronto.
Bilingual in English and Spanish, she has worked at the grassroots level in poor areas of eight Central American countries.
She was the founding director of Voces, a Battle Creek nonprofit organization, which works to improve health care access and inclusion of Hispanics in community life and leadership.
Flores and her husband, Ifrael, have two children.
"The Commission should bring the voices of all segments of the community to the table in decision making and planning. I can help make that happen,"she said.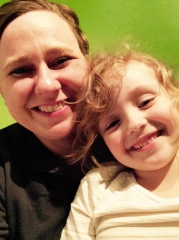 Like Flores, Kaytee Faris is a wife and mother, and radiates energy and excitement about being elected next Tuesday as an at large member of the City Commission.
Faris is a graduate of the L'Universite Laval in Quebec and Eastern Michigan University.
She grew up in Urbandale and Lakeview, and moved back to Battle Creek five years ago. "I wanted to be a cheerleader for the community, to get involved and make a difference," she said.
Faris has: from chairing the Fremont/McKinley Neighborhood Planning Council to serving on the Byrne Criminal Justice Innovation Grant Committee, which is focused on what is driving crime in Battle Creek. It is a collaboration of the Battle Creek Police Department, Battle Creek City Staff, Neighborhood Planning Councils and the Urban League.
The current "Visioning" going on in Battle Creek with Kellogg Company and Kellogg Foundation support is well and good, but Faris wants to make sure it results in concrete changes in the quality of life, the employment, the educational opportunities of everyday people in Battle Creek.
"I'm impatient to see things start to happen," she said with a smile.
Both Flores and Faris are steeped in community development experience and would bring a younger, and some say, fresh perspective to the Battle Creek Commission, which has been plagued recently by much publicized high absentee rates by some of its members.
Voters will decide on Tuesday if they think its time for greater diversity, youth, energy and community development experience on the City Commission.
"