May 09, 2016
"I just slap-shit out of her"
Trash Talk and Scamming at the VA Hospital:
"I JUST SLAP-SHIT OUT OF HER"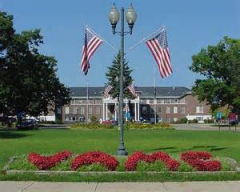 by jim richmond
Sitting for several hours the other late evening in the "Urgent Care" waiting area of the VA Hospital here in Battle Creek, Michigan, I was having trouble breathing.
But figured the other 15 or so in this large waiting area, with chairs ringing the wall probably were having their own health challenges as well.
I tried to curl up emotionally and mentally, but still was ruminating between reading a Kindle version of a Doris Kearns Goodwin book, and turning increasingly incensed at the loud, profane talk of a group of other vets waiting in the area.
No, not young Iraq vets. Old men like me They weren't watching the TV on the wall, or minding their own business.
Instead -- whoever listening be damned -- they were Mother-fucking this, kiss my ass that, laughing how they were conning the VA to get higher disability payments, exchanging tips on applying 40 years late for PTSD compensation linked to their Vietnam era service, self righteously complaining about waiting too long, about the poor quality of VA care, and telling oneupsmanship tales of kicking the shit out of women for holding back money or keeping their legs tight together.
I and one other vet moved as far away from the the group of about 15 or so as possible, almost down the hall to the photos of Michigan Congressional Medal of Honor winners.
I finally got up, walked to the intake worker behind the glass screen and told her to take "Richmond" off the waiting list.
"Where ya going?" I asked the other vet who had moved over away from the noise.
"Trying to get a ride to Community Care (senior home) by Dickman," he replied.
"Come on," I said, "let's get the hell out of here."
I'm not snichin or telling stories out of class in this FB post.
This morning I called the Patient Advocates office at the VA and went over this tale. A vet herself, she agreed with my criticism, assuring me it was quite different during normal clinic hours in the waiting room..
I hope that as she suggested, my experience was just anomaly.
If not, there's probably a lot of folks scamming the VA system.
As I told the lady on the phone this morning, I may have hated serving during the Vietnam Conflict, but I appreciate what I get from the VA.
Serving your country is a duty and a responsibility.
It doesn't "entitle": you to scam the system for every dollar you can squeeze out of it.

AUTHOR'S NOTE: Turned out I probably had pneumonia and was treated the next day at the same VA Hospital, by my Primary Care Team Leader and Nurse Practitioner Lisa D., who made a place on her schedule to see me right away, and got me started on a 5-day dose of "overload antibiotics." That's the kind of thoughtful care that has been the "norm" of my experience the past 15 or so years at VA facilities in Battle Creek, Kansas City, Albuquerque and San Francisco.