May 02, 2016
DORIS KEARNS GOODWIN IS BACK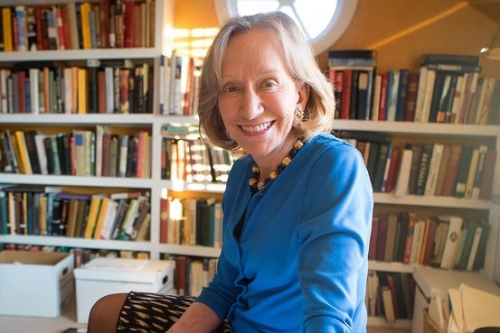 DORIS KEARNS GOODWIN IS BACK
by jim richmond
Few, perhaps, would have Doris Kearns Goodwin as one of their near lifelong professional heroes.
I do.
Tainted somewhat by claims from several authors that two of her books used their passages without citation, Goodwin disappeared from the PBS News Hour 15 or so years ago.
She is back. Aged 73, and now on the Sunday morning TV political roundtables.
Like George Will, you at minimum must admire her range of knowledge on American political history.
And her shared loved of and writing about American baseball.
The range of her Pulitzer-winning biographies stands with the best.
I've read them with admiration, inspiration, and gained new understanding about our leaders and our political process:
-- Lyndon Johnson and the American Dream.
-- The Fitzgeralds and the Kennedys: An American Saga.
-- No Ordinary Time: Franklin and Eleanor Roosevelt: The Home Front in World War II.
-- Wait Till Next Year:Team of Rivals: The Political Genius of Abraham Lincoln.
-- The Bully Pulpit: Theodore Roosevelt, William Howard Taft, and the Golden Age of Journalism.
As some of you know from my past newspaper columns, ragstorichmond blogs, and FB posts, I look for and write about personal unselfishness and goodness in people and their relationships, if I'm often lacking in those qualities myself.
Goodwin taught for 10 years at Harvard. Then made an unusual, unselfish choice. She resigned from Harvard.
With small children, Goodwin decided she wanted to be home with them in their growing up years. So she reserved mornings to research and write.
She was at the school bus when her children came home. Afternoons and evenings were for her family.
As a result, Goodwin spent 10 years writing the Fitzgeralds/Kennedy opus.
From Irish immigrant stock, she goes to 50 Boston Red Sox games a year.
Goodwin still has the same husband after 40 years; and describes how she cherishes that relationship and her children.
She is not a perfect role model. (Is anyone?) But she is all I wish I could have been, and more as a writer and a person.
And yesterday morning, as I watched Doris Kearns Goodwin on one of the TV roundtables, her analysis, knowledge, attitude and smile lit up the discourse.
How delightful it would be to have dinner with her some time.