February 03, 2017
Dr. Russ Mawby: "IT'S JUST A HOUSE."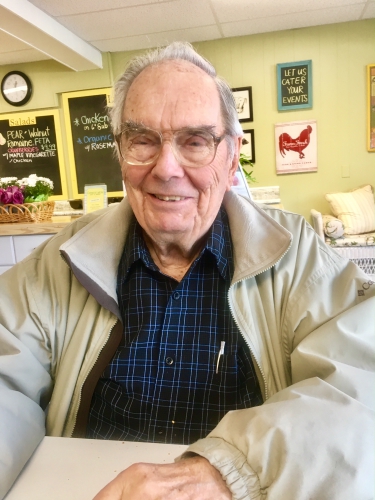 Dr. Russ Mawby:
"IT'S JUST A HOUSE"
By jim richmond
Nearly every Friday, Dr. Russ Mawby, my mentor and close friend of 40 years, and I have lunch at the same small restaurant, Dandelion, just up the road a piece from his Hickory Corners, Michigan home. We always have diet Cokes. He has a BLT sandwich. I usually have the Friday special. And more often than not, we top lunch off with homemade bread pudding.
Russ is the most brilliant, thoughtful person of my lifetime. And for 25 years, he was CEO of the now $7 billion W. K. Kellogg Foundation. Where I also worked for awhile.
Retired now some 20 years, Russ is and was unassuming. Often as not, he'd answer his own phone at the Foundation, and his door was open to one and all.
He turns 89 on February 23rd, his memory, sight and hearing have faded a bit, and Russ has overcome a host of lifetime illnesses, 4 1/2 years confined to a wheelchair, the death of his wife of 50 years, Ruth, and their son, Doug.
His wife of some 15 years, Lou Ann, greeted me at the back door this morning. Always with a smile, but she explained that a disconnected pipe had flooded their fully finished first floor "with about 55 gallons of water."
Carefully using walker and then cane, Russ gets in my car passenger seat, as we pull down their driveway, heading to the restaurant for our Friday time together. A highpoint of my week.
"Terrible about the water damage," I comment to him.
"No people got hurt. It's just a house," he replied.
He has always put people above things, possessions, titles and refused most of the usual trappings of success and international fame for his work and that of the Foundation.
"Just a small time farmer from Hickory Corners," he would describe himself to U.S. Presidents or other world leaders who regularly visited the Foundation.
"Only people are important, Jim," he has so often reminded me.
It's just a house.