May 28, 2017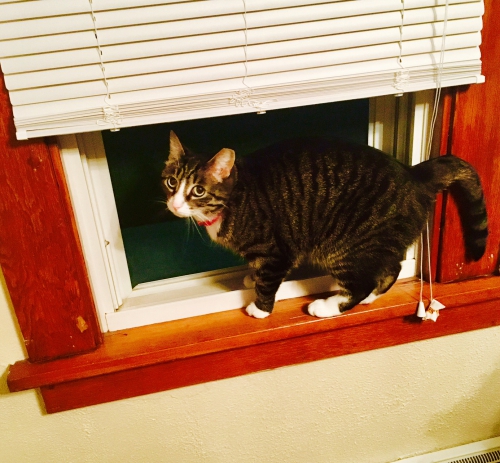 CHATTER BOXES
by jim richmond
With a fresh cup of strong enough Navy Jo (will the spoon stand in the coffee on its own?), I love to sit on the porch at 4:30 a.m. with the Dinkster, and listen to the birds chatter, welcoming in another day.
Dinky darts from porch to porch, room to room, window to window, as if he's listening to various bird chatters: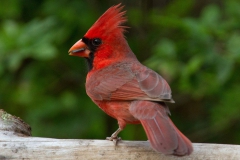 "Oh, Ethel," says Ms. Bluebird to Mrs. Robin, "Did you see the way that Red Bird CAME ON TO ME in the garden yesterday? Why, I felt like he was taking my feathers off with his eyes!"
"This neighborhood isn't what it used to be!" exclaims Mr. Sparrow, taking snippets off the worm still struggling in his mouth. "That darn Mocking Bird kid was wearing his tail feathers down below his knees. Excuse my language, Mrs. Willow Grouse. But disgusting. What is this new generation coming to!"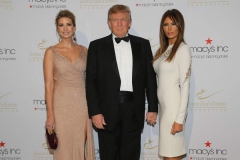 Dinky turns in the window to me: "See, Boss. These birds are out to lunch and it ain't even breakfast time. Wait a minute, and they'll start talking about Ivanka Trump telling her Daddy what to do in the White House."
I can hardly wait.
May 04, 2017
FAITES A LES MIENS ROTI FRANCAIS, S'IL VOUS PLAIT
Make mine French Roast, please
By jim richmond
French is the official language of Quebec, Canada. And they do not take their language lightly.
The Quebec government has a 1-800 snitch line, where Quebecois can call and inform on violators.
The line is connected to something known as "La Commission De Protection De La Langue Francais."
It doesn't take much to get turned out and turned in.
It's a crime in Quebec to print a YARD SALE sign with the English appearing larger and before the French VENTE DE GARAGE.
Or for a clerk in the 7-11 Store to say "hello" instead of "bonjour" first.
Penalties include fines and the revocation of business licenses.
Seems to me our Quebec French friends and neighbors are bucking a worldwide trend to make it easier for people to communicate comfortably and effectively across languages.
Some here in the U.S think everyone should speak English or be put in chains and on a boat back home to Tajikistan. But that's a minority viewpoint.
The fact is if you want to get ahead in this world, you need to read, write and speak English. Spanish, Chinese, Russian and German also help a lot.
Most of the world today is bilingual, and being so provides cognitive benefits.
For that matter, as an immigrant people, we Americans have never been much for snitching out our friends and neighbors.
As they say in the hood, "snitches get stitches."
Take that Quebec!
Pifs obtiennent des points!