December 07, 2017
Laurie Harrison Brightens Many A Customer's Day
LAURIE HARRISON BRIGHTENS MANY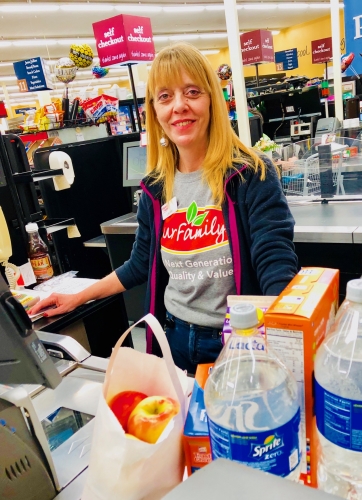 A FAMILY FARE CUSTOMER'S DAY
By jim richmond
It's 6:15 a.m. and I'm grouchy, knowing there's need for a few groceries to get before arriving at work.
Three "Family Fare" supermarkets are almost equidistant in miles and time.
But they are miles apart in terms of staff attitude and service.
And it's all because of a gal named Laurie Harrison and a few of her associates who work the opening and early store customer hours at the W. Michigan Avenue Family Fare store that make all the difference.
Laurie and her buds are light years away from the slow moving, sour faced colleagues at the other Family Fare store locations when their stores open for the day.
The corporate parent, Spartan stores, in Grand Rapids ought to watch, learn from, encourage and copy as many "Laurie Harrison's as they can over all their stories system wide.
Laurie always has eye contact, a smile, a little special greeting from knowing so many of the customers. And she's willing to patiently take all those coupons, find a product's store location, and while keeping maybe a few still in line behind me h-a-p-p-y to be at Family Fare, to see her, to shop there.
Laurie has cashiered at the Family Fare Store on W. Michigan Avenue in Battle Creek, Michigan for now 23-plus years.
And is she a gem.
And is Family Fare ever lucky to have her.
And all of us early, grumpy souls on the way to work, who transform their attitude and their smile, when she waits on them.
Thanks, Laurie. From me. From all of us.
And a very Merry Christmas!