May 24, 2018
The Fragrant Hill Pavilion: fun, beauty, and remembrance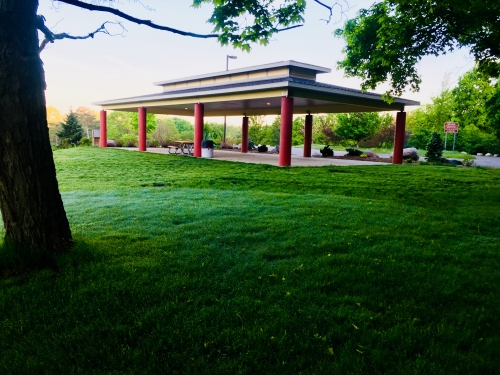 PICNIC/GRAD PARTY FOR YOUR FAMILY... SPECIAL FOR ALL WHO LOVE BATTLE CREEK.....AND REMEMBER FRANK ZANETTI
photos and copy by jim richmond
High on the overlook of Leila Arboretum, with its view of 3,000 trees, 6 gardens, walking trails, Fantasy Forest and much more, is the relatively new Fragrant Hill Pavilion, conceived by and with a lead gift from Bob and Eleanor DeVries.
Totally funded by some 90 private donations from civic leaders with names like DeVries, Mawby, Zanetti, Johnson, Doty, Mawby, Durham and others.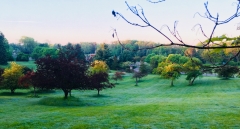 The Pavilion has lights, parking and perhaps the most breathtaking view of nature in Greater Battle Creek! Just call the Arboretum at 269.969.0270 to reserve it for your family, company picnic or celebration
(The Pavilion is named after a much larger and world famous Pavilion in Beijing, China, visited many times by the DeVries in their 13 trips to China, as well as by Leila staffer Jim Richmond during his three years living in China.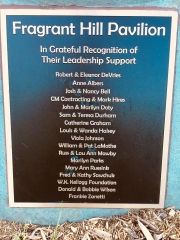 Also parenthetically, the last $5,000 of the nearly $80,000 needed to complete the Pavilion was the hardest to raise by Leila staff and volunteers. Last money needed always is!
Leila CEO Brett Myers and staffer Jim Richmond were invited into Frank Zanetti's office at Battle Creek Tile and Mosaic, and explained the final fundraising challenge. As with SO many good things he helped make happen in Battle Creek, Frankie, without fanfare, reached in his desk drawer and wrote out the check to cover the last $5,000 needed.)
The large stones shown in the photo collage below will be repositioned and dedicated with plaques in honor and appreciation to the EMTs, Police and Fire Department "first responders" at the time of Mr. Zanetti's tragic death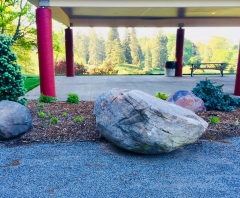 last year.