June 23, 2009
WWII 'Old Salt' Worries 'Luck May Be Running Out'
WWII 'Old Salt' Worries 'Luck May Be Running Out'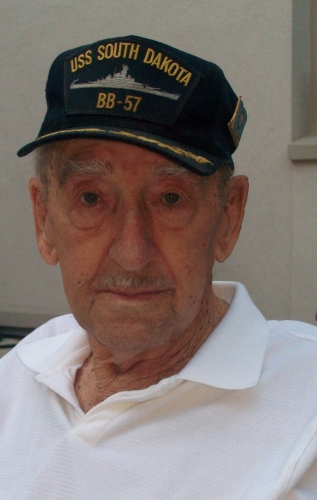 Frank Price says he's been lucky in war and in love, serving and surviving on the battleship USS South Dakota (BB-57) during World War II, when the ship suffered 42 hits during just one of its engagements with Japanese warships and fighter planes.
Price, 88, talks knowledgeably about the ship's bloody WWII conflicts, battles with famous names like Guadalcanal, Tarawa, Tinian and Truk. He served on the USS South Dakota for nearly five years, achieving the rank of Chief Warrant Officer.
But his real luck in life has less to do with making it through World War II, than meeting and marrying Margaret Marie (Lennon), his wife of 64 years, Price said.
The two grew up on neighboring farms near Bellevue, Michigan, but didn't start dating until after Price returned from Navy service.
"I didn't get serious with any girls before I got out of the (military) service," he recalled. "Because I didn't know if I'd make it back home alive."
He remembered Margaret. "I walked over to the Lennon family farm and asked her mom if I could ask Margaret out on a date," Price recalled. Six months later, they married.
Price returned to work at Post Foods, where he was employed 45 years.
After raising seven children, Margaret then worked 20 years at the Battle Creek Federal Center.
Following retirement, the Prices relocated to Sarasota, Florida; but returned to Battle Creek to be closer to family and for medical reasons, he said.
About a year ago, they moved into the Care Community assisted living facility, located on General Avenue in the Ft. Custer area of Battle Creek.
After a fall and a hospital stay, Margaret was transferred by her physician and family to a long term care facility.
Each morning, Frank gets a ride from Care Community to visit his wife for two or three hours.
"I've been lucky to have Margaret all these years. But, maybe my luck's running out. I miss her so, so much," he said.
n 30 –
n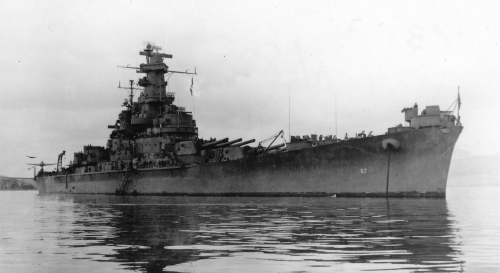 Photo Caption: Frank Price served as a Chief Warrant Officer for nearly five years aboard the USS South Dakota (BB 57), during some of the battleship's most fearsome fights with the Japanese in World War II. (US Navy Photo).