August 30, 2009
'First Wes' Sunday Service a Pleasant Surprise
Author's Note: This is second is a series of "Church Visit" profiles to appear here.
For last week's visit to, and profile of, Dexter Lake Church go to: http://ragstorichmond.blogspirit.com/archive/2009/08/23/c...
Next Sunday: First Christian Church. On 8.13.09: Ft. Custer Chapel (former military base chapel, now operated as a nondenominational church.). 8.20.09: Southwind Community Church (Lakeview). 8:30.09: Salvation Army (Battle Creek). For later fall: Battle Creek's high roller, downtown churches.
'First Wes' Sunday Service a Pleasant Surprise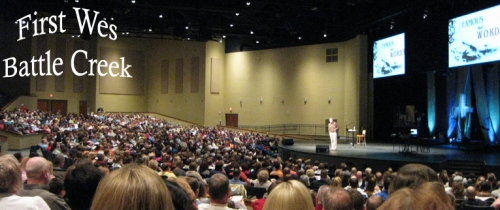 I was prepared to not particularly like First Wes Church today. Albeit a good friend is a Church member. My prior impressions of First Wes were as this huge, quasi mega, impersonal church (for Battle Creek's size) more about growth than agape.
Turned out I was wrong. On several scores.
The Church's Senior Pastor spoke on "The Real Thing," agape love vs. Eros or physical love. I'd give him a grade of B+ on the sermon. Sort of a laid back style, combining bits of Deback Chopra, Wayne Dyer and Tony Campolo. His sermon was reasoned; perhaps a bit too secular in tone and delivery: "Real love is a choice, not a feeling. If we have real faith in the Lord, that faith leads to real love. Real love is choosing to love those you'd rather not love. Real love pulls us out of fear of life and others."
He used PowerPoint slides, a giant screen with an amusing video with skits about how wearing your Christianity on your sleeve, chest or car bumper doesn't mean you're A Good Christian, or a very loving person.
Along with than the sermon, I was impressed with the music and the musicians: five or six musicians that sounded like 12. Three great lead singers, solid instrumental accompaniment. The contemporary religious songs were well chosen (love themes, like the sermon). It would be hard for Pontius Pilate to sit at First Wes and not stand up, and get caught up in the Christian music. And the music left me with a spiritual connectedness that lasted through the day.
One of the male vocalists is evidently head of Church music. Good voice. But, I kept hoping the female vocalist would sing solo again – a white Mavis Staples. "Wow, is she good," I leaned over and said to my friend and Church host. "Yes, sings a lot of jazz, too" my friend commented.
At the end of his sermon, The Pastor, in what seemed like a somewhat awkward, halting statement about recent Church growth and adding another pastor (they have 3 or 4 for various functions ... big church) showed a video of the new assistant minister – growing up in Battle Creek, swimming in a Lakeview H.S. meet, later with his motorcycle, and a solitary baby picture of his wife (I think. Or was it his child? Hard to tell from the video's audio track).
The congregation didn't seem to know whether to shout out welcome and amen, or laugh, uncomfortably, at what they thought -- but were not sure -- was self depreciating humor in the video. I hoped the New Guy would come up next to the Senior Pastor on stage. He didn't.
I stopped at the Information Desk before the service and got a purple plastic bag with First Wes welcome items. "You want a First Wes coffee mug or water bottle?" the friendly Welcome Desk volunteer asked me. (I took the purple water bottle.) Lots of good printed Church material in the bag. Turned out the volunteer was the sister of a mutual friend, I'd worked with, long ago in Battle Creek.
Resting for a minute in the atrium's "First Wes" Café after the service, with lines of folks getting cappuccino, coffee and sweets, I glanced through the Sunday's bulletin: 1,924 attended last week's three services and donated $28,772. Pretty impressive when there was no offertory or basket passing at the service, just the opportunity to leave an offering or tithe envelope at the door.
"We exist to reach the lost and broken in the region and to bring them into a fully devoted relationship with Christ," is the proclaimed, printed mission of First Wes Church. (Some may be lost and broken, but the Sunday congregation looked pretty put together and middle class to me.)
First Wes makes up for its size, by having active church missions and programs for youth, adults, men, women, singles, and almost any other small group interest possible within its congregation.
Overall, a nice, low key and inspirational Sunday morning of reflection.
I like First Wes and will go back. If they let me in the parking lot and the door.
But then that's what agape is all about.
For more information on the Church and its many programs and services, go to: firstwes.org.