September 25, 2009
Donorcycles, Punkmobiles and Women Drivers
Donorcycles, Punkmobiles and Women Drivers
"How do you like riding that donorcycle?" a friend said to me, with a smile and chuckle, the other day.
It took me a while to get it: motorcycle or bicycle riding + frequent use= traffic accident, and opportunity to donate heart, lung, kidney or liver (or all of them).
After about two months of riding a bicycle to work at 5:30 a.m. and normal daylight hours, I have G-O-T the message. You can watch the track, the traffic and your back, wear helmets and leather pants until the cows come home.
You're still gonna get whacked on that two-wheeler. It's just a matter of time and distance, the law of gravity, and female driving habits.

A couple weeks ago, a guy I know and his new, young squeeze were on their Honda or Harley, stopped at the light on Columbia, in front of the Michigan State Police headquarters. A woman in a car came up right behind and hit them…..the couple was thrown over the top of the cycle; they survived; the cycle did not. "I never saw them! I never saw them!," the woman driver exclaimed to onlookers and the State Police bluecoaters.
The basic problem is that two wheelers are invisible to everyone else on the road.
(ABOVE) Photo Caption: Don't do Evel on your motorcycle.
You are SMALL. Vulnerable.
Some motorists get a perverse thrill out of intimidating and scaring road runners and two-wheelers. They drive up next to you in their punkmobiles, and yell "FUC* YOU!!!!!" in your ear, laughing as pee runs down your leg and into your tennis shoe.
Two-wheelers LEARN to WATCH drivers' EYES. You can tell whether the driver is paying attention to driving, the traffic, and sees you.
Doesn't matter if you're peddling in one of those supposedly secure and safe, white striped "bicycle lanes." That white stripe could be yellow, because it runs right up your back, as you peddle along, and proclaims: "Road Kill!! Hit me!"
The biggest threat to all of us on donorcycles: WOMEN CAR DRIVERS.
They are not mean.
They don't yell obscenities at you. Women drivers almost always grin abashedly, and mouth the words: "I'M SORRY," after they've pushed the bicyclist off the road. Or flying into a ditch.
Women are compulsive multi-taskers, when behind the wheel of a car.
She is bopping to Bon Jovi on the CD. With her left hand, she is talking to her boyfriend on the cell phone, plucking eyebrows with tweezers in the mirror, taking a drag off a cigarette and balancing a hot cup of coffee. With her right hand, she is applying lipstick and combing her hair. Occasionally, she nudges the steering wheel with free elbow, to keep the car heading in generally the right direction.
So it ain't no joke: Stay off bicycles and motorcycles, unless you want to die young or have a death wish.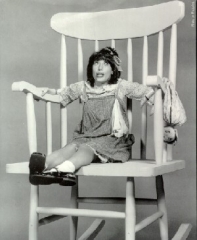 As Edith Ann used to say on Laugh-In: "And that's the truth."