October 25, 2013
Growing Number of Shoplifters Reflects Tough Economic Times
'No money at Christmas time, or anytime, when they need shoes'
Thanksgiving is not yet here. But the signs of Christmas shopping are showing up everywhere. Even when it comes to increased shoplifting.
The three teenage girls stuffed stolen blouses, slacks, caps and other items down their pants – on the sales floor of a large, suburban, retail store, and then casually headed for the door.
They didn't get far.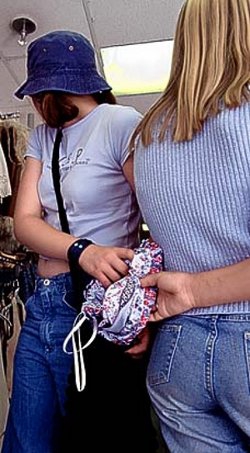 My friend, a seasoned "loss prevention" specialist, was waiting at the door.
Most retail stores make half their annual profits now through Xmas time.
They also suffer huge losses from theft by employees and shoplifters.
This store loses up to $300,000 from theft each Xmas shopping season.
(Research shows approximately ninety percent of the US population will commit the crime of shoplifting at some point in their lives
Adolescents account for one-half of all shoplifting cases, though- value wise- this population steals one-third of what adults steal.
Perhaps surprisingly, the second most frequent shoplifters are senior citizens.
Each family in the United States pays an extra three hundred dollars for goods and services to subsidize losses from shoplifting.)
We sat in my loss prevention friend's small office near the checkouts, as she watched a large bank of video screens scanning locations throughout the store.
"Oh, you learn to spot them. They take new shoes into the dressing rooms. Put them on. And leave the old ones behind. Same thing with jeans, blouses.They wear heavy coats on warm days, carry large purses. Spend too much time glancing around for store personnel or at monitors."
Shoplifting isn't just for poor folks.
"You might think this job (loss prevention) hardened me toward teenagers, seniors, poor people. But it ain't'so," she continued.
"I've seen it all. And seen them all. Pinched the powerful – retired chair of a county government, another downtown Pooh-Bah with plenty of cash in his pocket, two sons of a police officer."
Three cop cars were parked next to the store. The girls cuffed in the back of one.
"Don't jump at criticizing those kids or seniors," my friend said. "Some are from homes with drugs, domestic violence ... others very limited fixed incomes .. no money at Christmas time....or anytime, when they need clothes or shoes. So they end up here on a busy Saturday afternoon...."
Right along with the Winona Ryders.