August 27, 2014
Falling Out Of Love With College Football
Falling out of love and grace with college football:
THE CONFESSION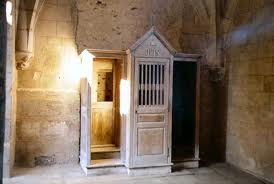 by jim richmond


Bless me, Father, it's been 47 years since my last confession.

That's OK, my son. I'm sure you've much to confess. Go ahead now. Take your time.

Well, Father, my biggest sin has been my most recent sin.

Yes?

Oh, I'm so ashamed, Father.

Take a deep breath, my Son.

Did you commit adultery?

Did you lay down with a four-legged beast?

Did you rob, plunder, rape, kill?

Oh, I've heard it all in this Confessional. You'll feel relieved. A weight will lift from your soul and your conscience.

Well, Father. I think I no longer love college football.

WHAT? Have you not tried to control base impulses, emotions that threaten our beliefs, the core our society?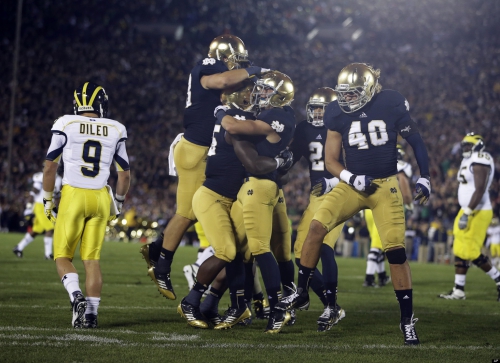 Yes, Father. OH HOW I'VE TRIED! Just this week, I watched 5 minutes rerun of the Michigan vs Kansas State Game. 7 minutes of the Notre Dame vs. Rutgers game.
And then what did you do?

I turned off the TV.

YOU TURNED OFF THE TV?

You live in Michigan? You grew up as an Irish Catholic Altar Boy?
What if other family, friends, learn of your sin, my son?
The police may make you wear an ankle monitor and report weekly to a Probation Officer.

You'll no longer be invited Saturday afternoons at Buffalo Wild Wings.
You would lose the social topic and context that binds all America together each fall.

Father, what shall I do? How can I repent?

My son, I'm sworn by Priestly Vows to never reveal what's said to me in this Confessional.
Go home.

Think about God's Glory and Love that radiates like a mantle of Holy Grace over campus football stadiums, and will do so next Saturday around this great country.
Complete The Act of Contrition.
Close your eyes and hear as thousands sing The Victors in the Maise and Blues' Big House.

Bring back the sights and sounds of the Irish Guards and cheerleaders leading thousands into the Notre Dame stadium, all singin:
Well I remember the leaves a fallin'
And far off music like pipes a callin'
And I remember the golden morning
I saw the long ranks as they were forming

And there's a magic in the sound of their name
Here come the Irish of Notre Dame

The pilgrims follow by the sacred waters
And arm in arm go the sons and daughters
The drums are rolling and forward bound
They're calling spirits up from the ground

And there's a magic in the sound of their name
Here come the Irish of Notre Dame
Think of those warm fall days, beer kegs and barbecue in the Touchdown Jesus parking Lot.
Fall in love again with college football.
Do I hear something?

What, Father?

Oh, my son, it's sweetest melody this side of Heaven.
Just listen: https://www.youtube.com/watch?v=Ff8CUSH2GNI