May 25, 2014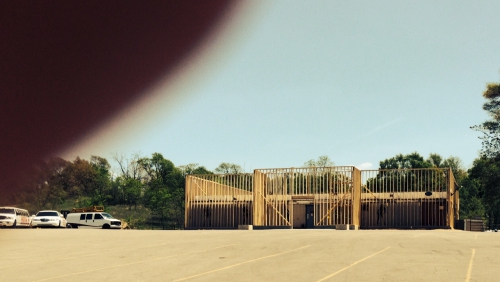 HOTS strip club to expand:
COME ONE! COME ALL!

The HOTS strip club, up the street from me here in Battle Creek, Michigan, on Raymond Road, is under construction to more than double its size and offerings.

It must be something like going from a 29C to a 42DD.

Not being a particular connoisseur of strip clubs, I'm not sure what a "doubling" would represent: multiple stages, multiple women, new options on lap dances, after hours tickets for the parking lot?"

I don't think Emmett Township has its own TIFA and business development districts, like downtown Battle Creek or our Ft. Custer Industrial Park.

Too bad, Emmett Township.
Think of all the johns....ups I mean jobs ... that will come to the Township because of this worthwhile project!

Today, I noted a sign saying "OPEN WHILE UNDER CONSTRUCTION!!

Now that's a relief!
May 23, 2014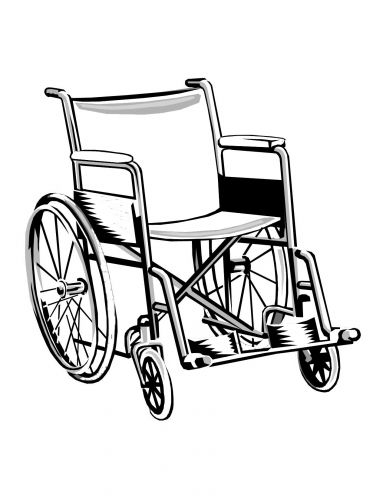 "They're killing me! They're killing me!"
I was in the hospital (again), on the critical care floor, about 10 days ago.

Early morning, and I hear the very old lady in the room next to me, scream over and over: "SOMEBODY HELP ME! HELP ME! HELP ME! THEY'RE KILLING ME. THEY'RE KILLING ME!"

Then a voice, a hospital attendant, who is rolling an empty wheelchair into the lady's room.
I hear the attendant say: "HI!!! ARE YOU READY FOR YOUR STRESS TEST?"

A visitor in the woman's room yells "STRESS TEST!!!!!!!!!!!!!!! SHE'S ALMOST DEAD!"

"Uuuuup, this isn't (Room) 301 (my room), now is it?," the attendant says.

Wheeling ME down for the stress test, I ask the attendant how she likes things after the recent hospital merger.
"I've been working here 40 years," she replies.

I thought: "That's exactly what I was afraid of."
May 12, 2014
Errole Sookhai, 63, :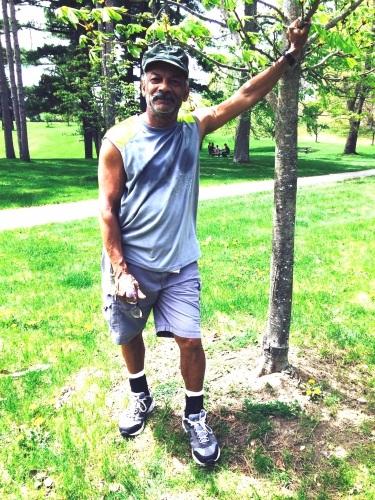 BATTLE CREEK'S RUNNING MAN
by jim richmond
Errole Sookhai, 63, is Battle Creek, Michigan's own RUNNING MAN.

You see him every day, as far south as Athens and north to Bellevue.

Sookhai, in his familiar Marine Corps' cap, has run daily since 1979.
Weekdays, he gets in 18 to 20 miles, after "I drop off my special needs son at school," he told me, when I stopped him for a chat in Leila Arboretum.
Weekends, "I usually do 22 to 28 miles. Both days," he added.
Locals remember the many years Sookhai would push his special needs son in a stroller, in front of him, on the long daily runs.

He retired from the Federal Center three years ago, having served in both the U.S. Navy and Marine Corps.

So give our RUNNING MAN a hand and a honk next time you see him.
May 03, 2014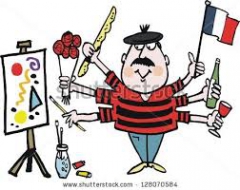 Faites à les miens rôti français, s'il vous plait
Make mine French Roast, please
By jim richmond
French is the official language of Quebec, Canada. And they do not take their language lightly.
The Quebec government has a 1-800 snitch line, where Quebecois can call and inform on violators.
The line is connected to something known as "La Commission De Protection De La Langue Francais."
It doesn't take much to get turned out.
It's a crime in Quebec to print a YARD SALE sign with the English appearing larger and before the French VENTE DE GARAGE.
Or for a clerk in the 7-11 Store to say "hello" instead of "bonjour" first.
Penalties include fines and the revocation of business licenses.
Seems to me our Quebec French friends and neighbors are bucking a worldwide trend to make it easier for people to communicate comfortably and effectively across languages.
Some here in the U.S think everyone should speak English or be put in chains and on a boat back home to Tajikistan. But that's a definite minority viewpoint.
The fact is if you want to get ahead in this world, you need to read, write and speak English.
Spanish, Chinese, Russian and German also help a lot. Most of the world is bilingual, and being so has cognitive benefits.
For that matter, as an immigrant people, we Americans have never been much for snitching out our friends and neighbors.
As they say in the hood, "snitches get stitches."
Take that Quebec!
"Pifs obtiennent des points."