July 29, 2014
"Tuesday Group" Volunteers Make Leila Shine
In Sun or Shadow, These Volunteers Help Make
Leila'a Dramatic Entrance "Shine"
By Jim Richmond
When the nearly 5,000 visitors pulled into the front entrance of the Leila Arboretum over the course of last Saturday to attend the Leilapalooza Music Festival (30 bands on 5 outdoor stages), many "ooohed and aaahed" to the volunteers directing traffic, complimenting them on the beauty of the Arboretum's stone columned entrance and welcoming rows of flowers, plants, water pool and flowing fountain.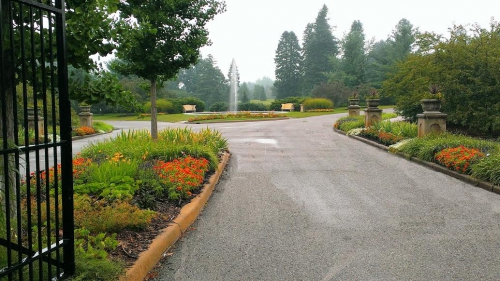 The Leila Arboretum Entrance has become a trademark of the Arboretum's dramatic 75 acres of 3,000 trees, 10 gardens, walking paths and so much more that today makes many call the Arboretum "Battle Creek's and Nature's 'Jewel'" of southwest Michigan.
"The front entrance says it all," commented Leila Arboretum Society's Brett Myer, its executive director. "And it wouldn't look or be that beautiful without the incredible hard work, dedication and creativity of our volunteers."
For as sure as the sun rises, Tuesday mornings year-round find a group of seven to ten volunteers busy working at or around the Leila Arboretum entrance – planting flowers, pruning trees, mowing grass, or in the Leila Arboretum office updating tree labels and doing other chores.
They are affectionately known as "The Tuesday Group," and their signature volunteer contributions were among those nominated and recognized at the recent Battle Creek Voluntary Acton Awards celebration held at the W. K. Kellogg Foundation.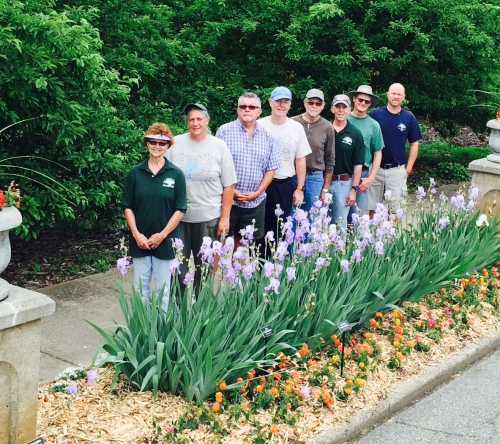 The Tuesday group have donated an estimated 12,500 hours to the Arboretum over the past nine years – in 2013, alone, a total of 1,206 hours -- volunteer hours valued by the national INDEPENDENT SECTOR organization at $27,135 just for last year; and approximately $281,250 since 2005.
This spring (2014) they planted more than 4,000 annual and perennials at the Arboretum's front entrance and surrounding the entrance's pool and fountain that have become a Battle Creek favorite for young people as an outdoor site for weddings. There are 19 flower beds in this small area alone.
Other Tuesdays, you see the group laying down mulch and clearing weeds out from around the hundreds of trees near the entrance.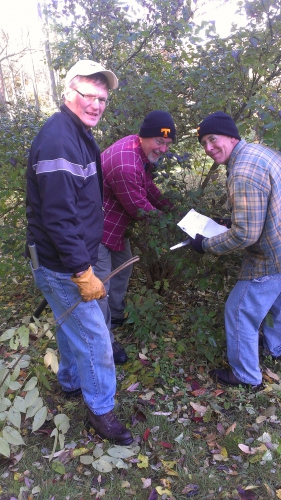 When the rain or the snow falls, the Tuesday group moves indoors to the Leila Arboretum Society office to plan for next year, print out tree labels or even – very recently – to clean, brighten and better organize the supply room and other office spaces.
Shortly before the Christmas Holiday season, the Tuesday Group strings thousands of holiday lights, plus life-size lighted toy soldiers that welcome visitors at the Arboretum entrance, plus the lighted tree in the fountain's center and on the nearby pergola.
There are many civic benefits at least partly attributable to the Tuesday Group's year round efforts: a big boost in attendance at Leila recreation events, growing use of the entrance and fountain area for weddings, and a major increase in people using the Arboretum's walking trails and picnic areas.
Overall Arboretum visitor attendance reached nearly 70,000 last year --- and has continued to grow in each of recent years – serving not only Battle Creek residents, but attracting thousands from throughout southwest Michigan and even other states.
Why did the Tuesday Group pick Leila Arboretum for their volunteer passion, perspiration and contribution to Battle Creek?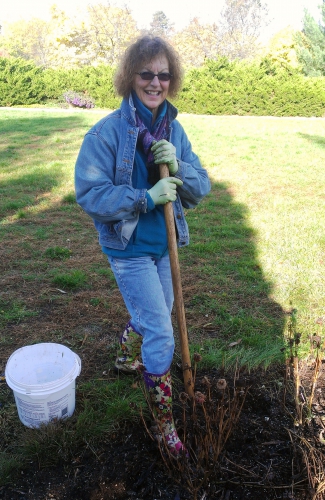 Volunteer Jerry Tilmann serves as the group's unofficial scribe: "The camaraderie of the group has made it fun to work 'in the soil' again and the work has given us a sense of accomplishment and pride. (Mid-week, Tilmann sends out a detailed email summary of the group's previous day's accomplishments, future challenges.)
"We simply believe we're helping to provide some civic pride by having a beautiful park location in the Urbandale/North Side of the City," he said.
The Tuesday Group's core volunteer group comes from disparate backgrounds. Rick and Mary Maison, Jerry Tilmann, Judy Wright, and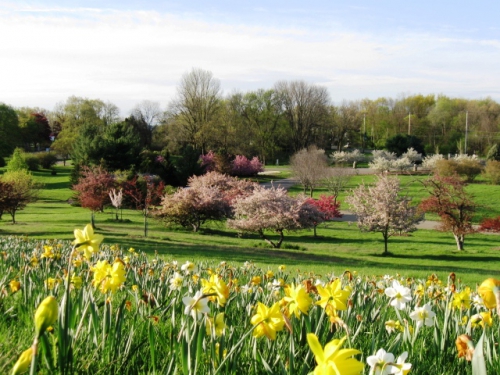 Gary Steiner are all retirees of the Battle Creek Federal Center. Glen Walters is retired superintendent of the Harper Creek School District. Mary Ann Ruesnik is employed by Jiffy Mix in Chelsea and Martin Krieger, as a medical librarian at Bronson-Battle Creek. Most are graduates of the MSU Master Gardeners' program, offered at Leila Arboretum's training center for many years.
Rick Maison was quick to note there are other volunteers who also work with the Tuesday Group on an irregular schedule when personal and professional responsibilities permit. They include Burget and Mary Jane High, Jeff Vanderboss, Richard Avery, Don DeNooyer and Dave DeGraff. Josh Bell of K Drive Greenhouse has been instrumental each year helping the group select and purchase plants and flowers for their Leila projects, he said.
So, come on out to Leila Arbortum on W. Michigan Avenue. See what dedicated volunteers can do.