September 07, 2014
Have we got a deal for you at: UGLY ED'S OIL SHOPPE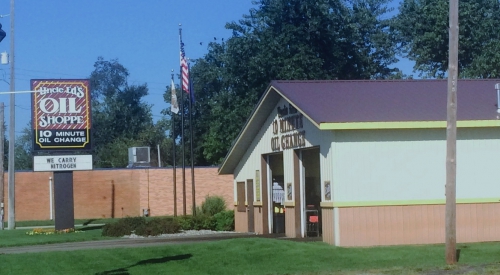 Have we got a deal for you at:
UGLY ED'S OIL SHOPPE
The elderly woman, about 90, pulled her almost new Buick LaCrosse into the bay, next to mine, at the local Ugly Ed's Oil Shoppe, to be greeted by a phalanx of uniformed attendants, who jumped to it like a Marine Corp drill team, "upselling" her from the advertised $29.95 Oil Change Special to a list of "needed" and "important" services Donald Trump who have had a hard time paying for.
"Upselling" is as American as apple pie; defined by the Oxford dictionary as "techniques for persuading a customer to buy something additional or more expensive."
But Ugly Ed's Oil Shoppe has turned upselling into an unusual combination of persuasion, cornball theatrics, intimidation, fear, persistence and repetition that would warm the hearts of Harold Hill, Zig Ziegler and Joel Osteen.
First off, the Ugly Ed team is a model of overstated ballyhoo and military drill team efficiency.
Before the lady has her engine turned off, they're at work on inspections:
"Tire pressure?," one team member yells to another.
"36. CHECK!," comes the reply.
"Washer fluid?"
"FULL!"
"Wiper Blades?"
"CHECK!"
This goes on until a team member with clipboard sides up to the woman's car window.
"I'd like the $29.95 oil change special," she says pleasantly.
The technician tells her, sorry, but her Buick REQUIRES synthetic oil. That's extra. A lot extra from that furnished with the $29.95 "special" on the sign out front.
Her wipes blades also need replacing (he holds up three sets of potential replacements, each increasing in price, and marked something like "Not So Good," "Fair," and "The Very Best" and explains the potential road dangers of driving with inferior or defective wiper blades.
He then sells her nitrogen (instead of air) for her tires, two kinds of filters, coolant, and assorted other "critical" items.
"Nice dog you got there," he says, pointing to the lady's gray muzzled black lab in the back seat. "But the old guy kinda smells a bit, don't he?"
He extends the clipboard with bill through her car window, "Just sign right here and we'll get ja goin."
Her eyes flare wide, a startled look on her face.
But she signs the bill and hands Ugly Ed her Visa card.
I'm thinkin: The dog aint the only thing that smells here.