September 17, 2014
Bear Claw
Bear Claw
At least twice a year, for more than three years, my Chinese wife and I would take the ferry from Hong Kong to mainland Shenzhen, and then board the train for the then near two-day journey, up through the heart and soul of rural eastern coastal China to visit her relatives in hometown Shanghai.
In Shanghai, a beautiful booming city with interesting reminders of long ago British influence, we did many things – but one we never, never forgot to do.
We would gather with Li Li's (my wife) relatives at her parents' gravesites.

The cremation urns built into the walls of a large mausoleum, reserved for the "Po Bas" of the Chinese Cultural Revolution, which included my father-in-law, who had long marched with Mao and then ruled over all Shanghai importing and exporting for nearly ten years, until he fell out of grace and spent years (as did Li Li, 15 years old at the time) doing stoop labor on a Chinese communal labor farm.
But he and Li Li, the whole family, were "reeducated" and returned to Red China's graces. And Mother and Father now interned with other true Revolutionaries.
The cremation urns included little, attached special boxes, filled with toy miniature reproductions of a bed, stove, luxury food items. And we would add to the boxes, in respect and hope that "Mother and Father" would have access to real life comforts in the afterlife.
I was reminded of all this recently, as I drove down Gregory Boulevard and past McClain's Bakery in hometown Kansas City, where one of my own Mother's (Mary McNamara Richmond) favorite delights was to buy several of the Bakery's bear claws with almonds.
So, I stopped at McClain's Bakery, and bought a bear claw.
And visited my parents' graves in a nearby Kansas City cemetery.
I left behind the McClain's bear claw with almonds on top of the joint grave stone of Mom and Dad.
They won't mind sharing one, I thought.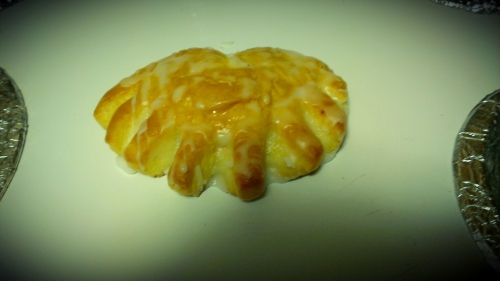 They shared everything.