September 25, 2014
"That'll kill ya, sonny."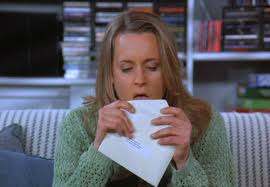 "That'll kill ya, sonny."
The petite, fragile 80s-something Chinese woman and older buttoned down starched shirt Caucasian husband walked into the Arboretum office yesterday.
"Can I help you?," I inquired.
"We're passing thru. From New Jersey.

Gotta map of the Arboretum?," she asked, as I continued to lick envelopes, anxious to get letters to Postman, waiting in the office parking lot.
Smileless, she stared at me like a piece of bad meat at the supermarket, and said:
"That'll kill ya, sonny."
I must of looked bewildered, because her husband took pity, and interpreted:
"The wedding invitations.
George.
Susan.
S-E-I-N-F-E-L-D episode."
They touched hands … turned to the door …
"Thanks for the maps," she said, winking at her husband.