October 23, 2014
Deadline for 2015 Art Competition Entries Nears
DEADLINE NEARS FOR 2015 'FIRST EVER'
BATTLE CREEK AREA ART COMPETITION
AND WEEK-LONG EVENT SERIES
There has never been a southwest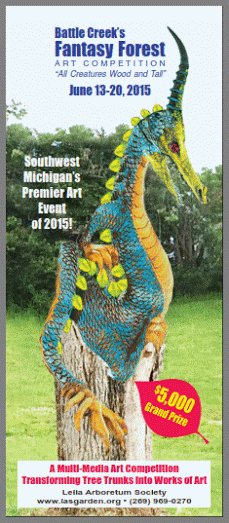 Michigan art competition quite like this one!
Artists from Michigan and around the country will use chainsaws, paint brushes, pottery chards, metal rods and much more to transform a grove of 16 Ash tree trunks at the Leila Arboretum in Battle Creek, into a "Fantasy Forest" of permanent art creations June 13-20, 2015, part of a week-long, interactive celebration of art, music and educational events for people of all ages.
A volunteer committee, headed by former Federal Center Executive Gerald Tilmann, is meeting weekly on art competition planning.
Tilmann said he is encouraging artists to submit entries of their original design concepts for the competition as soon as possible.
Detailed "Call for Artists" information on the entry process is available online at: http://lasgarden.org/pdf/FantasyForestCFA.pdf. The project also has a special Facebook page at: https://www.facebook.com/all.creatures.wood.and.tall
"There're only 16 tree trunks available in the grove, and we expect many artists to enter the juried art prize competition," Tilmann commented. "So we encourage them to enter now.
We welcome online, email, telephone and in-person calls and questions about all details of the competition."
In addition to juried prizes of $5,000, $3,000 and a $1,000 "People's Choice Award," artists selected for the competition receive a stipend, and the opportunity to display and sell their other art to an estimated 6,000 people who will visit the week-long competition.
For information, contact Leila Arboretum's Executive Director Brett Myers at 269-969-0270, ext. 123 or email bam@lasgarden.org.