July 20, 2015
Part Caine, Part Abel?
Part Caine, Part Abel?

Are we all part Caine, part Abel?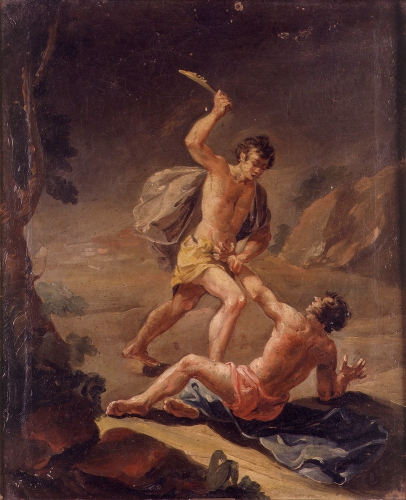 Certainly I've been over a lifetime. Some of us are like milk: skim, 2%, 5%, whole Caine, little Abel.

It's 3 a.m.., my body hurts, and I leave to drive to Chicago in a couple hours. But I have fed the cats...who are chasing each other around the apartment. And I am looking forward, later today, to seeing a friend from 40 years ago.

But for some reason I have laid awake, consumed with the Caine and Abel analogy -- The following story on Bill Cosby is, in my book, about a man more Caine than Abel.

Yet we held him up as Abel, as Jesus-like on the tv screen for decades and consumed his public morality statements. How can ANYONE be such a wolf in sheep's clothing?

But there are the true Abels among us.

For decades, I've disliked and distained President Jimmy Carter, even while several of my friends near Deify the man

In a long PBS interview recently. he explained the options presented to him by hs military leaders at the time of the hostage taking. ALL recommended destroying, wiping out Iran.

Looking back, one can still argue whether that might have been the best choice.

But Carter chose another less violent option. -- I believe the Abel option. And of course has paid the price for doing so, the rest of his life.

Carter was a mediocre President at best. But he has been a wonderful spokesperson and"doer" for peace and for helping others since leaving office.

But supporting, advocating for this world of evil and random violence only begets violence and evil. And we need role models; people who choose to be Abel over Caine.

Caine will always be walking in our shadow. And we can't let him consume the world....like Iran, China, North Korea and others are still doing today, even if that requires maintaining and using our own military strength.

but we can try our best to be more like Abel in our lives and toward others.

On the phone last night, I told my son that I'm working on that..... as I near the end of a wonderful life.

Still it is difficult to do, especially if we lack self examination and self awareness, as we have sadly learned with Mr. Cosby:

http://www.nytimes.com/.../bill-cosby-deposition-reveals...