January 26, 2018
Date With A (now dead) Prescription Drug Addict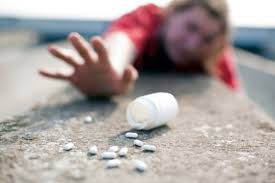 DATE WITH A (Now Dead) PRESCRIPTION DRUG ADDICT
About four years ago, I had one date with this attractive, retired school teacher, 31 or so years in local classrooms, she told me.
Nice dinner, comfortable conversation.
She texted and wanted to go out again; but failed for two weeks to respond to text messages.
Then a year ago, my phone rings at 11:30 p.m. It's her. She's in an area hospital.
They won't release her, she says, unless someone takes responsibility and picks her up. I said OK, wondering where her grown kids were to help Mom.
In the hospital ER room, she has two cracked ribs from "bumping a tree" while "exercise and running." Hard to believe, but she rattles on in great detail.
"If he's taking you home, you can put on your clothes and leave," the nurse says.
Her cell phone rings. It's one of her college-age kids. They talk for a minute and she passes the phone: "Sharon wants you."
So, her daughter tells me her 56-year old mom is in the hospital -- again -- picked up by the police, wandering down the middle of Columbia Avenue at 10 p.m, spaced out on prescription drugs.
"Don't take her home. She needs rehab. But won't. She's lost her (car) license. Gets beat up on the streets buying drugs. She'll go home, overdose again. And we'll find her dead," Sharon pleads to me.
I hang up, confused, angry, near guilt ridden but wanting rid of it all.
"Jim, give me my fuc*in cell back!" she screams, pulling hospital gown tight around like a burial shroud.
"No," I replied. "You'll call someone else to get out of here."
Talking with the psychiatric nurse on duty, he agrees to admit her for the night and then transfer to a nearby 3-day hold facility.
I keep her cell phone.
Nine days pass.
She nor anyone calls to get the phone back.
Only Horizon ...to leave a canned message, block the phone and claim she owes more than $400 on her bill.
I feel relieved, want no more of this hardly known, troubled person's chaos.
Several years pass.
And I'm startled the other day, flipping to the morning newspaper's page two, to see her once attractive face stare back at me, and to read her impressive teaching career.
In her obituary.
Drugs are ruthless, greedy teachers.