March 03, 2018
This 'Queen' Often Rules This B.C. 'King'dom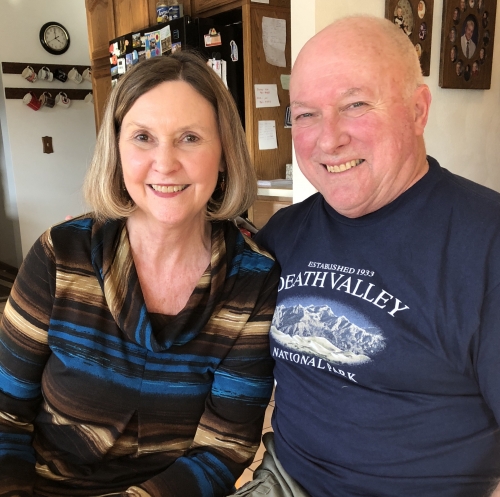 THIS 'QUEEN' OFTEN RULES THIS B.C. 'KING'DOM
By Jim Richmond
His name, Dr. Kingery Clingenpeel, sounds like a character out of a Victorian novel or from a '60s TV show, up there with Oliver Twist, Lord Lancaster Stiltstalking, Lieutenant Milo Minderbinder, Cosmo Kramer. Horatio Hornblower, and Groucho's Otis B. Driftwood.
But Dr. Kingery is the real deal in Battle Creek: with a real, academic doctorate, a long career in the pulpit and as pastor of area churches here in Battle Creek, a skilled amateur mountain climber, cancer survivor, man of wit, humor, intellect and compassion, civic leader and volunteer.
And yes, strange or not, (more to be revealed shortly) Kingery has a real Queen, in his wife of some 43 years, Laura (Baker) Clingenpeel.
A few friends who know the back-story call Laura "The Queen," but Kingery is most fond and found using the moniker.
The Clingenpeels are from farm families – Kingery, Indiana and Laura near the Mississippi River in Illinois, not too distant from Hannibal, farm country that was, at one time, at the center of pig farming in the United States, and back in those days, "that meant the center of pig farming in the world," Laura said.
A beauty as a young high schooler in rural, largely poverty-stricken Pittsfield, Illinois, Laura was crowned The Pork Queen of Pike County. ("It was a big deal. I got to travel.")
She has a faded newspaper clipping that shows her as The Queen, with ribbon, flowers next to famous Red Schoendienst, 10-time All Star baseball team pick, who played for many teams and for 19 years with the St. Louis Cardinals, including as coach and manager.
Laura is still a beauty today in her '60s, five years younger than Kingery, and has taught music for 31 years in the Pennfield Public Schools. Her classes, kindergarten through 5th grades, are in two Pennfield buildings and reach 700 students a week.
She is warm, welcoming, yet a bit reserved, a personality that plays well against and with husband Kingery's near constant smile, good humor and, a long appreciation, near wonderment, of how he "caught" this remarkable woman and wife of his.
How were they first attracted to each other, I asked?
"Oh, it was his sense of humor," Laura said, with a quick retort from Kingery: "Her legs. Beautiful legs," he chuckled. "We both thought that!" Laura bantered back.
They laughed, often, at each other recently, over a tray of cookies and coffee, and told me it was Laura who was best at the "catching" in their early relationship.
From strong Christian, farm family backgrounds, Kingery and Laura were introduced by friends to each other while Laura was a sophomore in college and Kingery attending the seminary, the institutions in the same location.
They dated for a while. They broke up, and Kingery moved to Oklahoma to complete his doctoral studies, and Laura was at her first teaching job in Chicago.
She wrote to him. He responded. Then, one day, Kingery now recalls, his phone rang.
"Do you know who this is?" a lovely voice inquired from the other end of the telephone line.
A pause at Kingery's end – "What a loaded question!" he was thinking, not sure.
"Ok, I'll give you a clue," she replied. "Oink. Oink," came the clue from the young women's voice, over the telephone line.
Kingery knew it must be Laura Baker.
And as they say, the rest his history.
Both have retained their farms and farm roots, traveling back frequently to hunt game, or to inspect, upkeep and plan farm operations. ("Nothing much changes," Laura commented.)
But much of their lives today center on Laura's long hours of teaching, and independent musical tutoring, and Kingery's now nearly part-time pastoring of the First Christian Church – Disciples of Christ, near Harper Creek High School, bordering B Drive.
His pace has slowed a bit after more than 45 years as a preacher and pastor, primarily in three churches, a passion and vocation that began in high school, and continued through 4 years of college and 4 years of seminary.|
"Kingery is a great preacher (as you know, Jim)," Laura observed.
And her husband is that – combining and blending Biblical scripture and current events usually around four or five key, take-home gems relevant to everyday life.
Like most things in their "family kingdom," the Clingenpeels share Church duties. Laura is now serving as head of the Church Council and plays the piano for Sunday church services.
"It's a small congregation, and (the Church pastoring) doesn't fill my days now," Kingery said.
He takes care of many home chores and most often cooks. A cancer survivor, he has been a volunteer driver for cancer patients, is in the development of major hiking trails in Michigan.
Short, bald and buff, in excellent shape, Kingery also takes off on several major hiking or mountain climbing trips a year.
"The Queen" sometimes joins him, but she said she also enjoys her separate, solitude sojourns to her family farm in Illinois, and not too infrequent visits to the historical, cultural and political heritage sites and activities of Washington, DC.
They seem to be a couple of 42 years that live well together and are confident and have faith in each other's own independent interests and occasional trips. They vacation separately and vacation together.
"Happily married. I'm happy," Laura said. "And I'm married," Kingery laughed.
"It's been good. I'd do it over," she added. One of the keys: "We joke a lot. I mean a lot!"
Both very proud of their children: Rebecca, the oldest, is an autism and speech therapist working with young children and their families at the intermediate school district level.
Caleb, the younger and son, recently complete his studies and is now a Physician's Assistant with Henry Ford-Allegiance Health Care System in Jackson working in both surgical and urgent care. (Out of more than 1,000 applicants, he was one of only 40 selected for the Physician's Assistant program at Western Michigan University, Kingery noted.)
"They're unusual, an unusual couple," commented Claudia Crawford, who's attended First Christian Church for more than 20 years.
"Laura, almost like a Queen, is very level headed, keeps things moving. Kingery, a wonderful pastor, is a soft touch, who loves the Lord and loves people."
Together, they make a great Battle Creek couple.
Long live The King!
Long live The Queen!