April 20, 2016
Paul Singh: "Thanks Battle Creek!"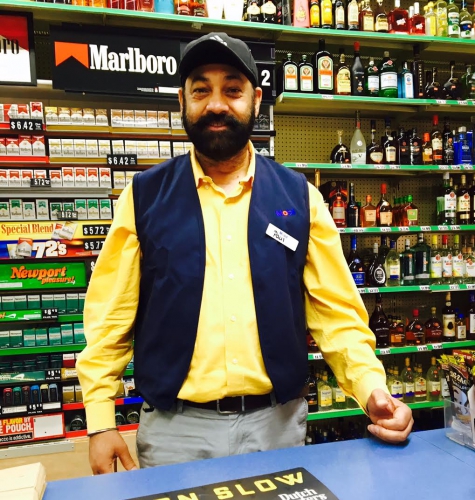 "THANKS, BATTLE CREEK!"
Paul Singh moved to Battle Creek 23 years ago, after driving a cab and working in a New York City convenience store.
"I wanted to find a quiet, friendly place. That's Battle Creek," Singh told me this morning, who now owns 8 area gas and convenience stores, including a new one at the west side intersection of Van Buren and Michigan Avenue.
He is also proud of being President of the local Sikh Temple.
Singh said it took him eight months to build and open his latest convenience store, which is always spotless, with an unusually large offering of food, pop and liquor.
He sells Mobil gasoline. "See, it's $1.95 today," he said, pointing with pride to an outside pump. "Mobil costs me a penny and a half more, but it is very good gasoline."
He was pitching in this morning, he said, because his regular morning clerk, Amber, had called in sick.
Amber always has a smile when I drop in each morning.