April 05, 2016
Leila Arboretum Gets Set for Big Changes, Attractions in 2016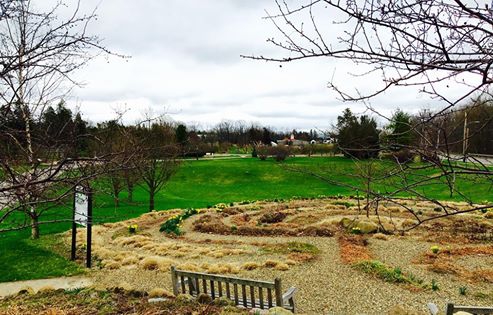 Leila Arboretum Gets Set for Big Changes, Attractions in 2016
Yesterday, I took my first spring walk around the 1-mile loop at Leila Arboretum here in Battle Creek, Michigan. A favorite activity for many others, especially seniors like me!
A bit chilly but sooooo refreshing to view the more than 3,000 trees, dozen-plus gardens, and to chat with Arboretum CEO Brett Meyers about lots of exciting music, art and nature education happenings, plus physical changes for the year ahead!
This view along the pathway, looking east from the Arboretum's unusual Peace Labyrinth, will be transformed dramatically in coming months, as phase 2 of Battle Creek's three-.day Fantasy Forest art carve takes place this June, adding 10 to 12 additional fantasy themed tree sculptures, a new musicial stage and landscaping. Thanks to many generous Battle Creek donors and volunteers, Myers said.
The West Michigan streetscape of the Arboretum will also be opened up, improved and enhanced towards downtown Battle Creek, spotlighting the Children's Garden, and for the first time visually uniting the total Arboretum streetscape along busy W. Michigan Avenue.
An exciting year ahead for the 85-acre Arboretum, Battle Creek's "Westside Gem," that draws 80,000 visitors a year -- many from out of town -- and recently was recognized as one of the top 10 public gardens and arboretums in the state of Michigan.

Hope to see you and say "hey" on a walk there one of these days.
We're ready for spring in west Michigan, aren't we? :-)
For more information about the Arboretum, and the Fantasy Forest art carve:
https://www.facebook.com/all.creatures.wood.and.tall
http://lasgarden.org