June 09, 2017
Polly Taylor: Living life to the fullest
Polly Taylor:
Living Life by Simple Rules, and To The Fullest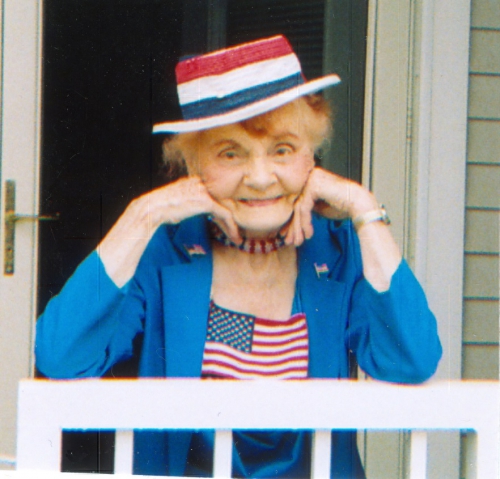 Figure 1 Polly Taylor on her apt porch at Northpointe Woods. She loved hats and 'giving out hugs' to everyone.
By jim richmond
The last thing Polly Taylor wanted was to go quietly into the night without family, or celebration.
And so her passing was a time of celebration, as well as dying.
Two daughters and three granddaughters spent that last day with Polly, as she lay in the hospice care room bed, having just weeks before celebrated her 100th birthday, this final time, with vital signs weakening, still conscious, looking around at family, holding, squeezing and kissing their hands.
Polly's granddaughter Wendy, a university professor of voice, sang to Polly most of her final hours.
Mrs. Taylor, was barely 5 feet tall, with beautiful red hair, a small woman who radiated a love of life and people, according to daughter Teresa McCleery, in a recent interview.
Teresa had spent the prior two weeks reading to her Mom. Over her long lifetime, Polly, herself, was a voracious reader of books and poetry, and compiled her favorite poetry and greeting card sentiments in six, well-worn and referenced poetry notebooks.
"Mom would go to them (the notebooks) in times of trouble. They gave her peace because they dealt with themes of love, friendship, family, caring," recalled Teresa. Polly would also extract and use notebook passages on cards to individual family members, and kept record of when and to whom she sent each passage or poem.
Polly was a bit of a free spirit, raised in a Baptist Minister family in Hillsdale, Michigan, striking out at age 17, determined to work and save her money to attend Michigan State University, where she was to eventually meet, and later marry John.
Figure 2. Polly and John Taylor. Early years.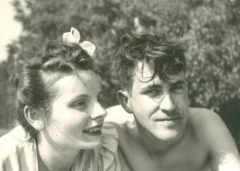 Polly and John owned and operated Capital Florists on N.E. Capital Avenue in Battle Creek.
She was known as a superb wedding floral designer, working with the brides-to-be to match flowers with bridesmaid dresses. Polly would sometimes speed between 6 or 7 wedding sites on a Saturday.
"Capital Florists was a real partnership. Dad was business-minded. Mom was the creative one," said Teresa.
Also raising the four children, Sandy, Barbara Thom and Teresa, Polly believed in a clear, practical philosophy: "Life doesn't have to be that hard, follow the simple rules, be kind to each other," remembered Teresa.
Still in their mid-50s, John and Polly decided to retire from the business and pursue what had been a favorite family activity -- travel. They traveled for more than a decade, often with youngest daughter Teresa, across the globe "for the learning of it," visiting some 65 countries, from the Holy Land to the South Pacific, Asia to Australia.
John died in 1998. Polly would spend her last 10 years living in the NorthPointe Woods retirement community in Battle Creek. She was known for her many hats and for "giving out hugs" to everyone.
In those years, and as the most geographically accessible, adult child, Teresa would visit her Mom daily, taking her to music and art events, reading to her, and on car rides about Battle Creek.
"Mom especially liked stopping on the overlook in Leila Arboretum, and appreciating the field of yellow daffodils that roll like a summer carpet down the hill to the (Arboretum) fountain," Teresa said.
Much as Polly and her family celebrated life and love on that last day, August 13, 2015, she asked that her cremated ashes not just be put in the ground or part of a mausoleum, Teresa said.
Following Polly's wishes, and as she lived life, her ashes were spread in Australia, Caribbean, the Pacific coast of California, Arizona, Mississippi River, and with her children and grandchildren in Wisconsin and Michigan.
"Mom wanted to be, and is all over the place," Teresa laughed.
Generous supporters to many Battle Creek charities during their lifetimes, John and Polly Taylor also left substantial charitable bequests in Battle Creek, including to the Music Center of Southwest Michigan and the Leila Arboretum Society.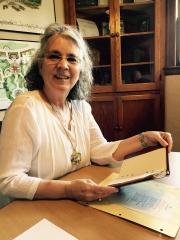 Teresa McCleery with one of her Mom's poetry notebooks. (Photo by Jim Richmond)