June 24, 2012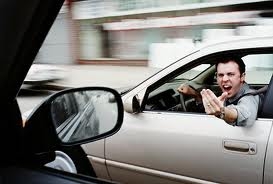 Road Rage
I was ashamed of myself yesterday.
The National Institute of Mental Health calls it "Intermittent Explosive Disorder." We know it as "ROAD RAGE."
In my advancing age, I was driving rather leisurely at a legal speed east on Verona Road, stopping for a light, before turning right on 11 Mile Road, to head past Firekeepers Casino, for a casual chat with a good friend in Marshall.
At the corner light, the driver behind me hit her horn, jammed her index finger out the window at me, and with screech of tires, roared past, across a yellow no-passing line, down 11 Mile.
She was apparently unhappy that 1) I had only been going 45 miles an hour in a 45 mile zone on Verona; and 2) I had the temerity to make a full stop as the light changed from yellow to red at 11 Mile.
Now, I could easily lie, here. I could claim self righteousness. That I was a law abiding, innocent do-bee behind the wheel.
But, I wasn't. I had gotten pissed when she tailed gated me for 3 miles. I got more steamed when she gave me finger and roared past on 11 Mile Road.
Then, the line of traffic from 11 Mile, turning left onto Michigan, and to the Casino was backed up a quarter mile at the next light.
The same young gal behind me, ignored two lanes of traffic, pulled up on my right, rolled down her window, starting screaming profanities at me, as her two young female friends…AND a young child in the back seat, stared.
WHAT DID I DO?
I joined the mayhem: rolling my window down, exchanging the finger exercise, and calling her names that would make a sailor blush.
The experience stayed with me the rest of the day, and now I'm writing about it here at 4:32 a.m. the next day.
And I need to change my own car behavior.
As a long time friend use to say about most small irritations and bumps in life: "It just doesn't matter."
But road rage DOES matter: It's a criminal offense in Michigan. And 56 percent of all fatal car crashes involve aggressive driving*
Here are some tips on how to avoid road rage:
Don't Offend
Avoid cutting drivers off and apologize if you do so

Avoid tailgating and honking the horn

Avoid making inappropriate or offensive gestures
Don't Engage
Steer clear of other aggressive drivers

Avoid eye contact

Seek help if you're being followed by driving to a safe/crowded location or by dialing 911
Adjust Your Attitude
Leave yourself

enough time

rather than trying to

make good time

Put yourself in the other driver's shoes

Take a deep breath and remember escalating a situation will only make things worse.
* AAAFoundation research study
June 17, 2012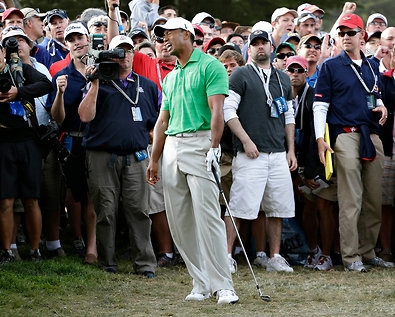 TOUGH TIMES FOR TIGER, Part II
Tiger Woods shot 75 yesterday at the U.S. Open, and has only a marginal chance to recoup and win the terrifying tough tournament today. He was SO whiny and full of excuses in the post-round interview.
For all his talent, it's his unpredictability of late, his arrogance and lack of humor people most notice.
Perhaps 15,000 fans surrounded the last hole yesterday, as he walked up the fairway.
Admiring his talent doesn't mean people like him.

Phil Mickelson has had an even tougher week, and lacks the awestruck talent of Woods. But Mickelson is a champion, too, and a standup guy, father and husband. He's also outgoing, unassuming, and friendly to his fans, plus puts a lot of his wealth back in charitable causes, like breast cancer research and treatment.

All a stark contrast to Mr. Woods' personal priorities and lifestyle.

Yet, I hope they both do well today.

Late last night, as the sun started to set on the practice putting green at the U.S. Open in San Francisco, after play had ended, and the fans were gone, Tiger Woods -- and no one else -- was seen in the sunset and dimming daylight, still on the practice putting green. I thought, "My God, he must be exhausted from the day he's had on the course!"

Most people would have been in the clubhouse with a double gin and tonic, or, back at the motel, in bed for the night.
So, I'm not going to count Tiger down and out for today, or for a long, long time.

In my book, he's still the greatest golfer to ever play the game.
June 16, 2012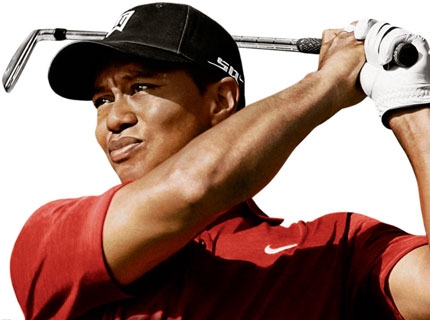 Don't tell me Tiger Woods ain't The Man
"He's not as good as Jack (Nicklaus)," a friend said to me about Tiger Woods, after Woods won The Memorial last month to tie Jack Nicklaus for #2 in all time tour wins at 73.
I replied that Nicklaus was certainly great, but it took him to age 46 to achieve his 73 wins, and Woods has done it at age 36.
"He'll never beat Nicklaus' 18 majors," my friend retorted.
Don't bet on it. Woods is at 14th major tournament wins, and I'd not put money against him smoking the field again today and tomorrow on the U.S. Open's San Francisco course to make it 15.
There are so many reasons for apparently people not to like Woods. I've heard him compared to Michael Vick, Donald Trump, John Edwards, and Jane Fonda:
He's a cad and a sex addict.
He doesn't smile enough.
He doesn't sign kids' autographs.
He makes too much money ... $90 million a year and is the highest paid athlete in the world.
He's (shall I write the unspoken sometimes subtexted?), b-l-a-c-k in a sport traditionally and historically white as Santa Claus' beard.
I don't particularly like Woods as a person and don't make excuses for his chilly demeanor and off-course antics.
He won't win any Father's Day awards tomorrow.
But after watching Woods for five hours yesterday, as he raced up and ripped a hole through the leader board; with uncanny discipline, and awestruck skill conquering the terrifyingly tough U.S. Open course, there is no doubt in my mind: He's in a class of his own – hats off and respectful nods to Sam Snead, Ben Hogan, Nicklaus, Palmer, Tom Watson, Mickelson, and the wannabees like Bubba Watson, Luke McDonald, Rickie Fowler and others.
So I wish Tiger Woods only the best in the next few years. He doesn't need my good wishes – or anyone else's – because he's the all time man when it comes to the game of golf.
June 15, 2012
"WHY DON'T YOU JUST DIE, YOU SENILE OLD BASTARD!"
That was a post back at me from a 20-something male on the international Denny's Restaurant website the other day, after I'd posted a comment critical of our local Denny's food and service.
This morning I was reminded of the comment, the presence or lack of civility among MANY of today's youth, as I finished playing 9 holes of golf, and was walking back to my car in the VA Hospital parking lot.
Two young men in their late 20s or early 30s, were carrying their golf clubs, walking past me toward the course.
"Beautiful morning, guys," I said to them with a smile.
"Outstanding morning, sir!," one of them replied.
It's pretty easy to spot most young people who've served in the military, by their dress and their manner, and their respect for others....especially for old grey haired men like me, who they surmise (correctly) served our country in a different time, and a different war.
You learn a lot in the U.S. military besides fighting a war.
June 14, 2012
'JIM, YOU WERE A BAD, BAD BOY."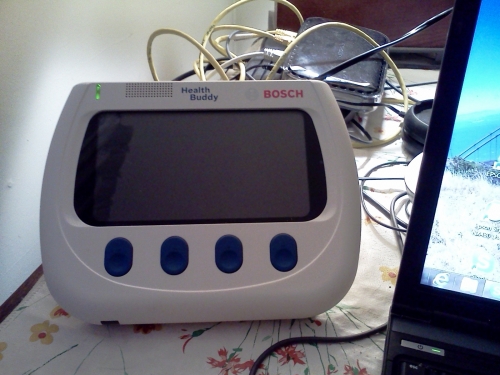 My friends at the VA Hospital have hooked me up with a new roommate. She is a small offwhite box, with four buttons and an interactive screen; and is attached to both my laptop and the Internet by ethernet cable. The VA calls her "Health Buddy." I call her "Hally," in reference to "Hal" the computer in 2001 The Space Odyssey.
You may recall that Hal tried to kill his human friend Dave in the movie.
"Hally," so far, is more benign. Each morning, she flashes a green light, and then starts asking me a series of new questions, to which I must respond.
Some seem prescient:
"GOOD MORNING, Jim. So glad to see you! Did you sleep well? I noticed from your Comcast logon that you stayed up late last night to watch the Tigers game on TV. That was some sixth inning for the Tigers, right Jim? But, don't take this wrong, Jim, that bag of chips was a bad idea and you need your sleep.
It wont happen again, will it, Jim?"
"Jim, Jim, Jim. You sent Deidre an email on SENIORSMEET suggesting lunch. Do you think that's wise, Jim? Wouldn't it be better to go a little s-l-o-w-e-r. You're not a spring chicken anymore, Jim. And Deidre may be a 300-pound ax murderer or sex pervert."
Still, I look forward to my little exchange with "Hally" each morning. At the end of session, she turns lighthearted, warm and cuddly, and asks me several historical questions....about famous dates, events....and tries to fool me.
Evidently, someone at the VA Hospital besides Hally is also reading all my health related responses about exercise, food intake, mood swings, etc.
And they may be reading this blog post.
So for the record, and because I BELIEVE and SUPPORT Hally, the VA and THE AMERICAN FLAG, let me say, hereandnow, unequivocally, God Bless You, out there, whoever you are.
----
In 2001 Space Odyssey,
[on Dave's return to the ship, after HAL has killed the rest of the crew]
HAL: Look Dave, I can see you're really upset about this. I honestly think you ought to sit down calmly, take a stress pill, and think things over.