August 28, 2012
Laura Davis:
Quiet Leader for Downtown's
Challenging Rebirth
Story and Photo by Jim Richmond
As Battle Creek celebrates its latest downtown improvements, digging through local history revealed quiet leadership by one individual -- 27 years ago – that reshaped and revitalized the center city in a dramatic, profound and lasting way that makes today's modest civic enhancements seem, like, well, comparing a parking lot to a pyramid. And it was a near monumental effort that took patience, fortitude and nearly $90 million.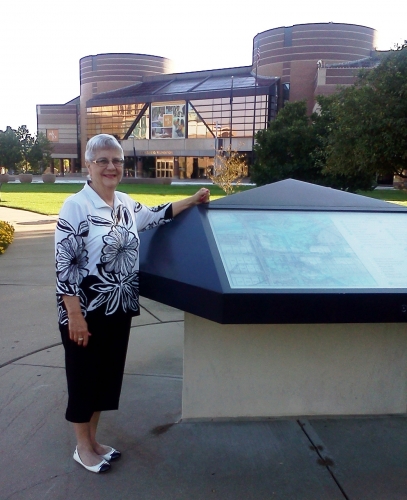 The quiet leader behind it all was Laura A. Davis, who in 1985 was a Vice President of the W. K. Kellogg Foundation, and was asked to meet with then Foundation CEO Russell Mawby.
Davis recalls Mawby saying: "Laura, how would you like to build a building?" She replied: "Russ, I've never built anything."
But Mawby thought Davis had just the right stuff for the job: "I picked Laura because she knew the community, cherished its roots and history, was good with people, planning, thoughtful and thorough," Mawby said in a recent telephone interview.
Davis accepted the challenge of leading a national site search for a new W. K. Kellogg Foundation headquarters, with the Foundation settling on an East Michigan Avenue location in downtown Battle Creek.
"We could have built the headquarters in any community, at any location. But Russ and the Board of Trustees wanted it to be in Battle Creek, and where the project could have most economic development impact in terms of construction jobs, and in terms of the future of the downtown," Davis recalled.
She then coordinated the massive five-year project, which included negotiating purchase of 43 individual downtown properties from owners– many of the properties run down and empty, and only a few with historical value.
The Foundation also paid for the relocation of 14 tenant businesses, and constructed a new Riverwalk Center complex to house some of the tenants.
The new Foundation headquarters building would encompass 213,000 square feet of space on three floors, with an attractive red brick, steel and glass façade.
Davis said the Foundation saw it primarily as an economic development and downtown revitalization effort. "We were guided by the question: 'How can we have the most positive impact on Battle Creek?'"
The Foundation insisted on using local and Michigan architects, lawyers, planners, and construction personnel for all aspects of the project. The Foundation building was furnished with equipment, offices, furniture, kitchen and computers from local and Michigan suppliers.
Davis often spent 16-hour days, for the five years, in her small, cramped portable office near the downtown construction site.
She said she learned a lot, and had to overcome some misperceptions in the mostly male construction business.
Early in the planning, she was the only woman in the room with project architects and a large number of construction contractors present to hear about bidding parameters.
"One of the guys said he could sure use a cup of coffee. So I got up, and casually poured a cup for him," Davis said.
"Boy was he surprised, when the architect then introduced me as the owner's representative!" she continued with a laugh.
Davis is proud she brought the downtown redevelopment effort in "on time and on budget," in spite of the complicated property acquisitions, new building construction, replacement parking lots for the City of Battle Creek, the Riverwalk Centre complex, and a new Mill Race Park.
"Everyone worked together – the Foundation, the City, Cereal City Development Corporation, property owners, history buffs, civic leaders – to make it happen. It showed what a City can do, when you have a positive, can do attitude."
Davis retired from the Kellogg Foundation staff in 1997 after a 33 year career.
'Can do' could be her middle name.
Copyright, 2012, Jim Richmond. All rights reserved.
August 21, 2012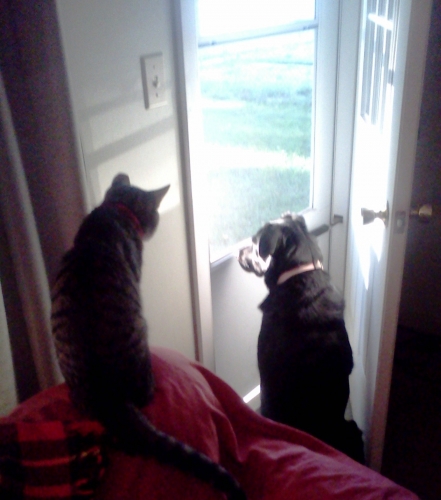 PEACE IF NOT LOVE IN HAPPY VALLEY

This is a 'shout-out' to my friend Laurie Sullivan who provided TRULY expert advice on how to stair-step socialize and acclimate my cat Dinky, with my son's visiting 60 pound Black Lab/Rott, "Paris."

A rather traumatic Paris visit for Dinky six months or so ago, has, so far, been a cake-walk or should I say, cat-walk.

Dinky takes comfort in the no sudden loss of territorial imperative, and realizes keeping peace instead of making war can be fun, even with what instinctively looms as an emotionally oppressive, threatening and intolerable new presence and intrusion in daily life as we know it on Broadway Blvd in Battle Creek, MI, USA.

There is co-existence, stability, neah happiness, this morning, in this little patch of Urbandale.
Who sez we can't learn from our pets?
Now, think I'll take Paris for a walk, and say a prayer for those in Happy Valley.
August 17, 2012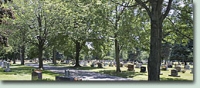 Memorial Park Cemetery in Battle Creek:
Where Care and Caring Really Matter

Motorists navigating the fast paced traffic along Columbia Avenue and Helmer Road have little time to notice the nearby 84 acres and 5 miles of pathways that embrace one of Battle Creek's loveliest and best maintained cemeteries, known as the not-for-profit Memorial Park Cemetery Association.
The Cemetery is unique in the nation for being owned and operated by a service organization, the Battle Creek Kiwanis Club.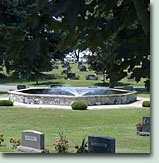 Established as a privately funded cemetery by pioneer funeral home owner and director Andy Hebbel in 1924, Memorial Park was the first "modern" cemetery in Battle Creek, designed in advance, laid out like a subdivision, with careful attention to family plots, pathways, lovely trees, fountains, and even a small lake and an attractive chapel and mausoleum.
Particular attention has been given to maintaining precise records on the people and the graves of the some 23,000 people buried there.
Andy Hebbel and his wife Ester, who had no heirs, donated the cemetery to the Kiwanis Club, which operates the cemetery as a community service.
The Club elects the Cemetery's all volunteer Board of Directors and Club members devote lots of time to seasonal cemetery upkeep and various memorial day efforts.
Jim Talbot, a friendly and engaging person perhaps reflecting his past career as a savings and loan vice president, has been managing the Cemetery since 1991, which has a full-time staff of 5 people, including 3 permanent ground crew workers, plus 4 seasonal workers.
Talbot said the Cemetery is self sustaining from perpetual care, interment rights and service fees.

"We've seen lots of changes in the death care industry in recent decades," Talbot observed. "More baby boomers are deciding on cremation rather than burial. Families are also waiting to hold memorial services til later, when family and friends can gather from out of town. It helps spread out the costs as well."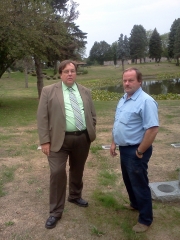 Memorial Park staff members Jim Talbot (left) and Doug Felter.
A grave, full service interment and ground memorial is only about $2,500 at the Cemetery, but Talbot noted that funeral home costs "can add around $6,500" for embalming, casket and other services.
"Cemeteries are all about ritual and a permanent memorial – protecting the dignity and the memory of those who can't protect their own dignity," Talbot said.
Memorial Park Cemetery is maintained in pristine condition by Grounds Manager Doug Felter and his staff, and they are very visible cutting grass, trimming bushes and trees, and handling all the details of burials, which average about one each day at the Cemetery.
Most hours of the day, a few area residents can also be seen walking the Cemetery's meandering pathways. It is, perhaps, one of the most attractive and safe walking areas in greater Battle Creek.
Talbot says the Cemetery doesn't mind the walkers one bit. "We want people to know more about Memorial Park. Individuals pick a cemetery for themselves or loved ones because they know about it, because they have family or friends buried here."
There's plenty of room remaining at Memorial Park – about 50 percent of burial plots have been sold, but only about 20 percent are already used. The Cemetery primarily serves the area encompassing the City of Battle Creek and 5 area townships.
"We want people to know this is all we do. We are here just to serve the people of Battle Creek," Talbot said.
The Cemetery's main entrance and attractive administration center is accessed on Territorial Road.
For more information: http://www.bcmemorialpark.org
August 03, 2012
Stand out Republican, Democratic Candidates: Mark Jones, Christine Kosmowski
Clear Election Choices for Important Water Resources Position
By Jim Richmond
Near hidden in the weeds of voting decisions at next Tuesday's primary election is one of the least understood in Calhoun County governance and services, yet of major importance to many County residents: election of a Calhoun County Water Resources Commissioner.
The County Water Resources Commissioner and his staff construct and maintain about 500 storm water management systems (County drains) in Calhoun County. These systems provide storm water management, drainage, flood prevention and stream protection for urban and agricultural lands – especially for County land owners outside the incorporated limits of the City of Battle Creek.
There are two Democrats and seven Republicans vying to represent their parties by victory on Tuesday, and then the November primary election faceoff.
Both the Democratic and Republican best qualified candidates are clear: Christine Kosmowski (D) and Mark Jones (R), have strong professional, technical, and relevant career experience.
Kosmowski is a likely winner on the Democratic side, with incumbent Commissioner Larry Cortright facing recent allegations over public intoxication, and questions during candidate forums regarding his job performance.
Kosmowski works as Environmental Programs Coordinator for the City of Battle Creek, with experience in environmental and water evaluation. She earned a master's degree in earth science from Western Michigan University and has been active as a volunteer in area conservation projects and organizations.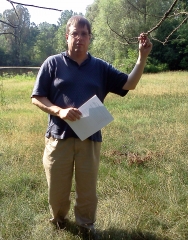 Among the seven Republican candidates, Mark Jones is the demonstrated, best choice. Jones has 20-plus years of civil engineering and project management, including in many of the major duties he would be responsible for as Water Resources Commissioner. He has studied civil engineering at Walla Walla College in Washington State.
Jones has a solid track record of civic leadership in Battle Creek, having chaired Neighborhood Planning Council #4, as well as volunteer service with the Battle Creek Historic District Board, Kingman Museum, Junior Achievement and Kiwanis. He is currently president of Merchant Services of Southwest Michigan

Why has this elected post drawn nine eager candidates? The Water Resources Commissioner has wide discretion and near independent authority in carrying out projects. (The position is also relatively well paid, with an annual salary of $65,000, plus use of a County truck.)
Only limited information is available on the Internet regarding most of the Republican candidates:
Johnny Cash, past volunteer service as City Planning Council Chair and various neighborhood groups in Battle Creek; has run for the position unsuccessfully in the past, holds welding and mechanical repair certificate/two-year degree.
Mark Jones, RECOMMENDED.
Dan Loew, Athens School Board member and East Leroy resident, 25 years farming experience.
Tony Mahoney, no Internet campaign information available.
Travis Piepkow, Lee Township farmer, active in Calhoun County Farm Bureau.
Josh Stults, no Internet campaign information available.
Heath Tichenor, no Internet campaign information available.