March 03, 2013
'Great Escape' Stage Company Is A 'Great Surprise'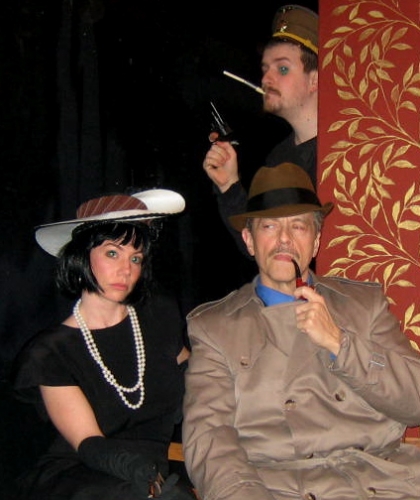 GREAT ESCAPE STAGE COMPANY
IS A GREAT SURPRISE
Last's night performance of "The Thirty-Nine Steps" was a tour de force by local writer and thespian John Sherwood (former editorial page editor of the Enquirer and now Oaklawn Hospital executive) at the cozy, close-in and comfortable 30-seat Great Escape Stage Company in downtown Marshall.
The two-act comedy and spoof of the famous Alfred Hitchcock film was like Young Frankenstein on Ritalin.
Featured were Sherwood as Richard Hannay, the square-jawed hero with a pencil mustache; and Amity Reading as the myriad of dangerous and seductive women he breaks the hearts of.
Chris Blackford and Randy Lake played every other character they crossed paths with - including the diabolical Man With No Top Joint of his Pinky Finger and "Mr. Memory", a MacGuffin in the whole spy-thriller plot!
Talented, high energy, and versatile group of actors, who handled more costume and set changes than backup singers at an Elton John and Tina Turner concert.
A very fast paced, funny MontyPythonish production, too; held back only by a somewhat confusing, drawn-out second-act plot line and close.
We're going to run not walk to the phone, ordering tickets for the next Great Escape production, "Dog Sees God: Confessions of a Teenage Blockhead" by Bert V. Royal. Starts March 15th and runs through March 30th.
The Great Escape Stage Company: a delightful surprise and terrific local entertainment resource.
Times and ticket prices: 269.781.2700. http://greatescapestagecompany.com/home