April 19, 2014
With Every Beat Of My Heart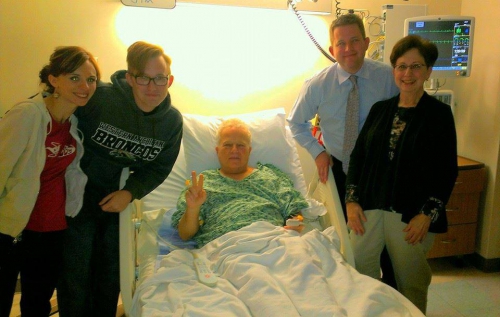 With Every Beat Of My Heart
By Jim Richmond
A friend and I were walking across downtown Kalamazoo late last night, after enjoying dinner and a live performance of the Civic Theatre 60s spoof titled BOING, BOING.
Still laughing at the high jinks plot line of a Paris bachelor who tries to juggle simultaneous engagement to three "airline hostesses," we agreed the play was a much needed relief after a week in which both of us experienced the death and dying of family members and close friends.
"You should write a blog about your own near-death experience," my friend said. "It was kinda funny how it all happened."
Like the plot line in a bad drama, I thought to myself, the actual experience didn't seem funny that sunny workday afternoon last October.
I ate a chicken salad sandwich from Horrock's Farmer Market and just completed a leisurely 20 minute, lunch break stroll around the Leila Arboretum on Battle Creek, Michigan's near Westside, where I still worked part-time as a fundraiser.
A meeting started with colleague Katy A. in my upstairs office of Leila's old admin building on W. Michigan Avenue. Katy went to get some background material from her office. When she returned in just several minutes, she found me. I had passed out, faced down, into the screen of my computer laptop.
Katy recalled that I suddenly opened my eyes. Not knowing what really happened, I asked her to follow me home in her car.
"Think I'll just go in, lay down for awhile and relax," I suggested to her, then stopped myself in mid sentence and said: "No. I'd better go to the (hospital) ER. Will you take me there?"
Thus began a strange 48-hour journey that would take me up to, and half way through death's door to the other side at least six times, saved from the final trip only by medical technology, luck and several "right choices" that I and others somehow made.
When all the usual heart tests proved negative, the attending Physician's Assistant in the ER said she was going to recommend my discharge. Told me to put my street clothes on and she'd return in a few minutes.
Instead, about an hour later, a young ER doctor walked into the room. "Mr. Richmond. I don't know what caused you to faint. But you aren't going anywhere til I find out."
So I was admitted to the Cardiac Care Unit, hooked up with monitors, and the next morning was wheeled into an adjoining building for every type of Cat Scan, X-Ray, MRI, ERI known to mankind and described in The Physician's Reference Manual.
Somehow, I was still connected by telemetry to the heart monitors in my hospital room, when the brain scan technician started removing all the wires he'd put on my head. I remember he walked into another room.
The next thing I knew, I opened my eyes to find 8 to 10 physicians, nurses and specialists performing CPR.
My heart had stopped for about two minutes and it had set off telemetric alarms back in my hospital room, bringing a phalanx of Code Blue responders rushing down the hallways to me in the brain scan room.
And they revived me.
I was wheeled to the Intensive Care Unit. And in several hours, my sons from Lansing and Detroit walked into the Battle Creek hospital room, apparently alerted to my critical condition by the hospital staff.
This time, in addition to other monitors, they also taped what looked like modified car jumper cables to my chest. And over the next five hours, my heart stopped six times.
Each time, I could feel and sense losing consciousness, and the jumper cables would automatically jump-start my heart. I felt the shock and pain as the jolt lifted my body a couple inches off the top of the bed.
In the middle of the experience, I could hear someone tell one of doctors and my sons: "No signed DNR (Do Not Resuscitate) on file for Mr. Richmond."
I kept my eyes closed not wanting to frighten my sons – or perhaps myself – but was thinking, 'Jim, this may not have a positive outcome."
I was wrong, of course.
I'm alive and writing this blog, looking out on the near blinding spring beauty of Leila Arboretum this early Saturday morning before Easter.
This afternoon, I'll delight in watching my 11-year old granddaughter play soccer in Williamston, Michigan.
All made possible by good medical care, luck, and the little electronic pacemaker that now monitors and regulates every beat of this old, very thankful heart of mine.