October 24, 2014
Author's note: Last week, as chilly October winds blew off Lake Michigan, I traveled down Blue Star Highway, which runs north to south almost within sight of elegant homes, barely hidden on direct side roads to the Lake Michigan shoreline.

The Highway was littered with fancy restaurants and antique shops, like nearby summer Lake homes, closed for the winter.
In front of one store, still open, was a "marked down" display of ''Elegant, Hand Made Chesapeake/ Adirondack deck chairs", at the "special price" of $359.99 each.

I stopped and checked them out. They were poorly constructed and designed -- pale comparisons to those described in the story below. At about twice the price.
So, want the best and the best price in anything wood, stop by Jeannette Elliott's in Battle Creek. No Lake view at her place. But what a skilled craftsman.
Jeanette Elliott's Woodshop:
Building Furniture to Last a Lifetime
Long before Jeanette Elliott graduated from Harper Creek High School in 1981, she knew what she wanted to do in life: build beautiful, functional, sturdy things from wood that people could use and cherish for their lifetime, and likely the lifetimes of their children.
Elliott is the sole, passionate proprietor, and one employee, of Elliott's Woodshop, located at 449 N. Bedford Road (M-37), just North of Morgan Road.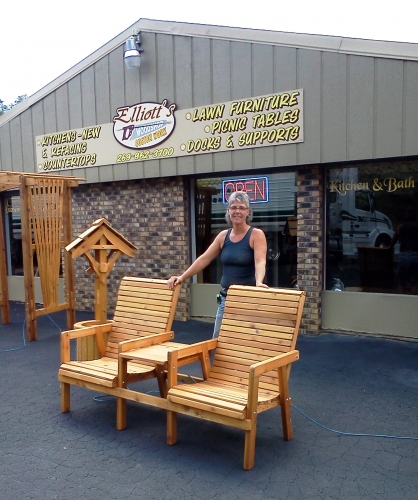 Almost anything you want, and can be fashioned from wood, Elliott can make – -- floating boat docks, historic fire station doors, kitchen cabinets, custom deer blinds, library shelves, retail display units – but her specialty seems to be lovingly designed and built summer furniture: Adirondack chairs, picnic tables, wishing wells, fun tete-a-tete chairs, tables – and almost all of very sturdy, lasting cedar and white Oak woods.
Elliott tries to purchase all of her wood and other materials from U.S. manufacturers, and says her furniture and other creations are better made than those sold in the parking lots of Lowe's or K-Mart, and which usually are from China or somewhere else overseas.
"My passion for wood and woodworking began in 7th grade shop class," Elliott said with a laugh, removing the safety glasses she'd been wearing while operating a table saw. "And I do whatever it takes to make my business possible."
That translates into even cleaning school building hallways, classrooms and toilets on a part-time basis, and being thankful for that source of income; while she maintains an 8 to 10 hour Woodshop and display center schedule.
"Oh, I like to work hard. And this is relaxing. There aren't too many woodshops still operating these days. But my "open" sign is still 'on', and I'm thankful for what I have," she said.
More information about products and Woodshop hours is available by contacting Elliott at 269.962.3700 or 269.965.6732.
October 23, 2014
DEADLINE NEARS FOR 2015 'FIRST EVER'
BATTLE CREEK AREA ART COMPETITION
AND WEEK-LONG EVENT SERIES
There has never been a southwest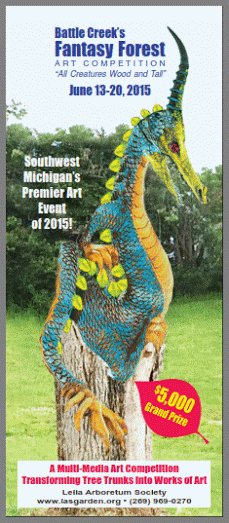 Michigan art competition quite like this one!
Artists from Michigan and around the country will use chainsaws, paint brushes, pottery chards, metal rods and much more to transform a grove of 16 Ash tree trunks at the Leila Arboretum in Battle Creek, into a "Fantasy Forest" of permanent art creations June 13-20, 2015, part of a week-long, interactive celebration of art, music and educational events for people of all ages.
A volunteer committee, headed by former Federal Center Executive Gerald Tilmann, is meeting weekly on art competition planning.
Tilmann said he is encouraging artists to submit entries of their original design concepts for the competition as soon as possible.
Detailed "Call for Artists" information on the entry process is available online at: http://lasgarden.org/pdf/FantasyForestCFA.pdf. The project also has a special Facebook page at: https://www.facebook.com/all.creatures.wood.and.tall
"There're only 16 tree trunks available in the grove, and we expect many artists to enter the juried art prize competition," Tilmann commented. "So we encourage them to enter now.
We welcome online, email, telephone and in-person calls and questions about all details of the competition."
In addition to juried prizes of $5,000, $3,000 and a $1,000 "People's Choice Award," artists selected for the competition receive a stipend, and the opportunity to display and sell their other art to an estimated 6,000 people who will visit the week-long competition.
For information, contact Leila Arboretum's Executive Director Brett Myers at 269-969-0270, ext. 123 or email bam@lasgarden.org.
October 04, 2014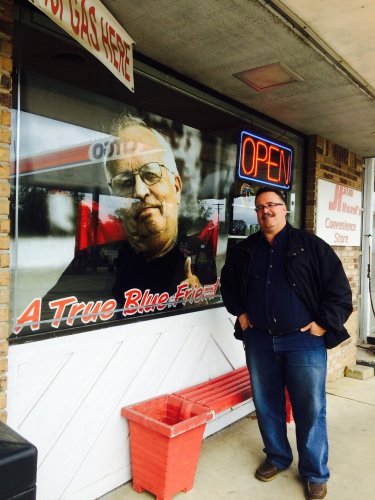 "I want to bring the (Service) Station back to its former glory:
Son Applies Lessons, Finds New Hope After
Iconic Father and Civic Leader Jim Hazel's Death
photos and story by jim richmond
Next week will mark the first anniversary of Jim Hazel, Jr's death, who was a Battle Creek civic leader and booster without peer for decades.
Today, his son Jim Hazel III still runs the Citgo Service Station on Beadle Lake Road that has been in the family for three generations, and which has gone through good times and – more recently – tough financial times.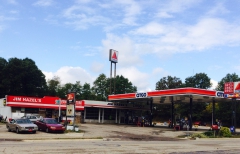 But the sun is out and shining as far as Jim Hazel III is concerned.
After straightening out complicated and inaccurate sales taxes debts on the station totaling $100,000 from the past 15 years, Jim is ready to focus on renovating the station to its "full service" status, with its historical emphasis on local, quality auto repair.
Meanwhile Hazel, at age 50, is studying full-time at Western Michigan University, finishing a degree in telecommunications information management, after already earning an associate degree in law, and a master mechanic's certification. While running the station full-time.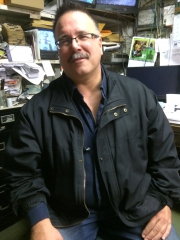 "I was a late starter," he said, laughing, during a recent interview. "My Dad started working in the Station when he was 11 (years old). I was 13."
His father took care of the business side, but his son learned more than how to pump gas and fix flat tires.
"My dad was like the energizer bunny. He worked constantly. And he was a 'connector' in the community. He connected people together to get problems and projects solved in Battle Creek. He also taught me to keep going forward. That you only have so much time in life."
The night before this interview, Jim said he sat in the Harper Creek High School football stadium, near a special area dedicated to and where his father always sat for games.
"It's been a year. But I sat there and teared up over Dad being gone," his son said.
But Jim is moving forward.
And he has high hopes and big plans:
To bring the station back to its glory days.

To give back to the community as a volunteer, as his father did.

And with wife Nancy, to raise their daughter Alyssia, 14, and a Harper Creek High School freshman, in the Hazel family tradition of hard work and putting community before self.
A year has passed.
But, son Jim still has a huge blowup photo of his Dad in the service station's front window, as a tribute and a reminder.
Photo or no photo.
Many in Battle Creek will never forget Jim Hazel.
October 03, 2014
Hospital Confusion Over Ebola Victim All Too Common
Jim Richmond's Note: The Texas hospital screw up in communication between nurses and physicians over background of the Ebola infected walk-in patient is all too common an experience for most of us.
My cousin, a phd educated nurse practitioner and university faculty member, has often cautioned me, and others, "You, a family member or a friend have to be your own patient advocate in the hospital."
In Texas, TV network news are reporting this morning that the doctors and nurses had separate laptop patient information systems. Systems that did not communicate with each other about the Ebola patient's travel history.
So, take with a huge grain of salt, all the Interstate Highway advertising signs by megahospitals about how super efficient and effective they are….
Truth is there are a lot of good, compassionate people working in hospitals. But they make mistakes, like the rest of us. And most big hospitals operate just like most other big businesses.
And when you're a patient in one, you have to not only watch your back but cover your own ass.
Literally and figuratively.
Here's my own little, recent, true experience in back and ass covering at my "hometown" hospital.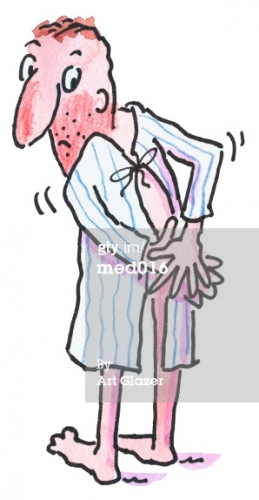 "STAT! STAT! Will The Hospitalist Please Call the Intensivist."
"STAT! STAT! Will The Hospitalist Please Call the Intensivist."
By Jim Richmond
I got wheeled onto a hospital elevator yesterday. The elevator stopped and a middle aged man in a white coat and wearing the physician's stethoscope around his neck, got on.
Funny guy. We bantered back and forth, as the elevator went up the floors.
"A neurologist?" I asked the hospital attendant accompanying me, after the physician got off the elevator.
"No. He's an Intensivist," the attendant replied.
"Is that a new board certified medical specialty?" I pressed on. "What does he DO? Is he anything like being a Futurist?," trying to joke a bit.
"Intensivists are physicians who specialize in treating people in intensive care," he said. "They work with the hospitalists."
"The hospitalists?" I asked.
"Hospitalists are doctors who treat patients in a hospital. They're usually hospital employees. We got lots of them," the attendant said.
"Oh. What about the general practitioners and family docs? The ones who saw you in their office, knew your medical history and problems, and visited you in the hospital. They had something called 'hospital privileges'; and made patient rounds in the mornings," I said.
My wheel chair attendant explained, "Hardly any family docs do hospital visits anymore. It's specialized now."
Yes, I thought. 2 ER doctors, 1 Physician's Assistant, 1 Hospitalist, 1 Intensivist, 1 Charge Nurse, and 2 floor nurses, all asked me the same basic health background questions, while the majority of them also rather frantically typing my answers on their tiny laptops.
"Aren't all your laptops connected in one patient information system? Do you have to ask the same questions over and over again?," I inquired, with a smile, of the CCU nurse.
She seemed, only for a moment, a bit puzzled by my question. "Some hospital staff can only access part of the hospital
records for a patient. You DO want your information to be accurate, don't you?"
"Certainly do," I meekly replied, and a bit intimidated
, checking to see the back of my hospital gown wasnt showing my cheeks.
Lots of hands in the modern hospital pot these days.
Progress and technology move ever forward.
I got excellent care at the hospital, by friendly, very professional people.
But, I still miss Dr. Robert Oakes. Our family physician (now retired), who birthed both our sons, knew all about my bad knee, the kids' childhood illnesses and allergies, and was always at the hospital too, when you needed him.
Dr Oakes was my kind of intensivist.
October 02, 2014
Bad Teeth:
Can A Smile Be Your Umbrella?
Just let a smile be your umbrella,
On a rainy, rainy day . . .
And if your sweetie cries, just tell her,
That a smile will always pay . . .

Whenever skies are gray,
Don't you worry or fret,
A smile will bring the sunshine,
And you'll never get wet!

So, let a smile be your umbrella,
On a rainy, rainy day . . .
Many of us old-timers won't soon forget Perry Como's comfortable smile, singing this tune on his TV show during the late 1950s. Como and the song seemed to say optimism pays in life and that a smile can overcome much, including a rainy day.
It's still true today.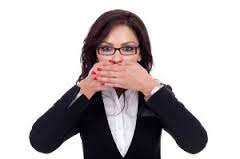 Unfortunately up to 44 million Americans don't dare smile because of the condition of their teeth, and don't have an umbrella for a rainy day, according to an article The New Yorker magazine.
It reported on a Harvard University study that "bad teeth" is the No. 1 problem of Americans who can't afford to go to a dentist.

The Harvard researchers, for their book "Uninsured in America," interviewed all kinds of people. The most common complaint was about teeth.

There was Gina, a hairdresser in Idaho, whose husband worked at a chain store. Gina had "a peculiar mannerism of keeping her mouth closed even when speaking." Turned out she hadn't been able to afford dental care for three years, and one of her front teeth was rotting.

Daniel, a constructor worker, pulled out his bad teeth with pliers.

Then, there was Loretta, who worked nights at a university research center in Mississippi, and was missing most of her teeth. "They'll break off after a while, and then you grab a hold of them, and they work their way out," she explained.

Those Americans struggling to get ahead in the job market quickly find out that unsightliness of bad teeth is a major barrier. If your teeth are bad, you're not going to get a job as a receptionist or a cashier.

According to the study, bad teeth have come to be seen as a marker of "poor parenting, low educational achievement and slow or faulty intellectual development."
I'd call it another "marker" of how we've become a society of have and have-nots.