September 25, 2014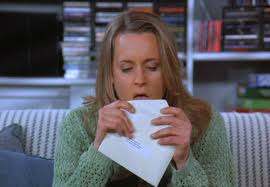 "That'll kill ya, sonny."
The petite, fragile 80s-something Chinese woman and older buttoned down starched shirt Caucasian husband walked into the Arboretum office yesterday.
"Can I help you?," I inquired.
"We're passing thru. From New Jersey.

Gotta map of the Arboretum?," she asked, as I continued to lick envelopes, anxious to get letters to Postman, waiting in the office parking lot.
Smileless, she stared at me like a piece of bad meat at the supermarket, and said:
"That'll kill ya, sonny."
I must of looked bewildered, because her husband took pity, and interpreted:
"The wedding invitations.
George.
Susan.
S-E-I-N-F-E-L-D episode."
They touched hands … turned to the door …
"Thanks for the maps," she said, winking at her husband.
September 17, 2014
Bear Claw
At least twice a year, for more than three years, my Chinese wife and I would take the ferry from Hong Kong to mainland Shenzhen, and then board the train for the then near two-day journey, up through the heart and soul of rural eastern coastal China to visit her relatives in hometown Shanghai.
In Shanghai, a beautiful booming city with interesting reminders of long ago British influence, we did many things – but one we never, never forgot to do.
We would gather with Li Li's (my wife) relatives at her parents' gravesites.

The cremation urns built into the walls of a large mausoleum, reserved for the "Po Bas" of the Chinese Cultural Revolution, which included my father-in-law, who had long marched with Mao and then ruled over all Shanghai importing and exporting for nearly ten years, until he fell out of grace and spent years (as did Li Li, 15 years old at the time) doing stoop labor on a Chinese communal labor farm.
But he and Li Li, the whole family, were "reeducated" and returned to Red China's graces. And Mother and Father now interned with other true Revolutionaries.
The cremation urns included little, attached special boxes, filled with toy miniature reproductions of a bed, stove, luxury food items. And we would add to the boxes, in respect and hope that "Mother and Father" would have access to real life comforts in the afterlife.
I was reminded of all this recently, as I drove down Gregory Boulevard and past McClain's Bakery in hometown Kansas City, where one of my own Mother's (Mary McNamara Richmond) favorite delights was to buy several of the Bakery's bear claws with almonds.
So, I stopped at McClain's Bakery, and bought a bear claw.
And visited my parents' graves in a nearby Kansas City cemetery.
I left behind the McClain's bear claw with almonds on top of the joint grave stone of Mom and Dad.
They won't mind sharing one, I thought.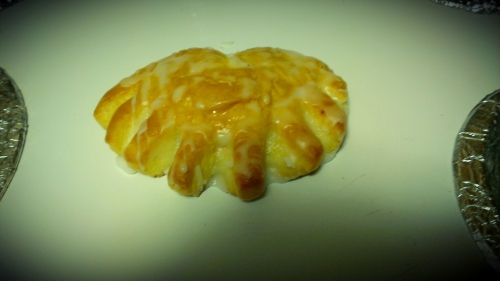 They shared everything.
September 09, 2014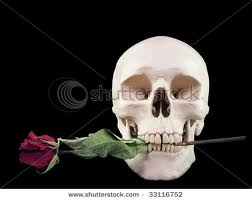 Boomer Dating In The Internet Age:
A ROSE AND A RASPBERRY


Yesterday, a national news outlet carried a piece asserting that an estimated 1 out of 4 males on one of the largest Internet Dating Sites has been convicted of a felony.
This 'boomer' dating in the Internet Age is like trying to find out if that "great used car buy," is the real deal or a leftover from the New Orleans flood.

Not long ago, I was talking with a nice gal on the phone, met on the "Single Seniors Meet" website.
Her photos breathtaking. They showed her posing jauntily before the Gate of Heavenly Peace in Tiananmen Square, and lounging in the sand on the Star Wars movie set in Tunisia.
She suggested I might visit in her southeast city and "even think about going to Sicily" next October.

In perhaps 15 email and phone conversations, we chatted exclusively on two topics: 1) her pets; and 2) the PGA Touring Golf Pro she lived with in the '70s.
"You can Google him on the Internet," she said. "He was a real star."

I nudge the conversation to books read, favorite foods, politics (the
Death Star topic), best cities, grandkids.
It was like trying to get the cat out from under the bed.
One night, we were talking (again) about the new "Luxury Microsuede Snoozer Dog Car Seats" and "Thunder Shirts" for anxiety disorders, she's recently purchased for her four Doxies.

"Did you Google (insert golfer's name here)?"

"Yes," I replied.
Turned out I'd heard of the guy. He won the first Tournament of Champions and a number of chickenandpees regionals, but was best known for his gambling and wearing a rose between his teeth on the final four holes of a PGA tournament.
The profile listed his current age as 90.

Suddenly, the phone went quiet: "I've something to tell you," she near whispered, a bit breathless, and I wondered if she wanted to talk a little dirty, or I guess what they call today "phone sex."
"It's the age thing."

"The AGE THING?," I asked, thinking about her Golfer paramour's.

"Yes," she replies, "you know my profile says I'm 66." (Long pause.)
"Well, I'm a little older."
"Oh, how much?" I asked, like someone afraid to hear amount of the car transmission replacement bill.

"82," she says. "If I'd posted my real age, no one would've replied."

I poo poohed it all, trying to make us feel comfortable again.
"I'm glad we got past THAT," she said, obviously relieved.

Now about those breathtaking photos.
September 07, 2014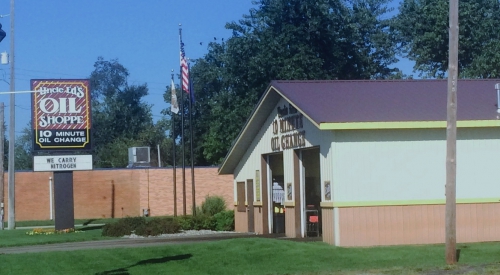 Have we got a deal for you at:
UGLY ED'S OIL SHOPPE
The elderly woman, about 90, pulled her almost new Buick LaCrosse into the bay, next to mine, at the local Ugly Ed's Oil Shoppe, to be greeted by a phalanx of uniformed attendants, who jumped to it like a Marine Corp drill team, "upselling" her from the advertised $29.95 Oil Change Special to a list of "needed" and "important" services Donald Trump who have had a hard time paying for.
"Upselling" is as American as apple pie; defined by the Oxford dictionary as "techniques for persuading a customer to buy something additional or more expensive."
But Ugly Ed's Oil Shoppe has turned upselling into an unusual combination of persuasion, cornball theatrics, intimidation, fear, persistence and repetition that would warm the hearts of Harold Hill, Zig Ziegler and Joel Osteen.
First off, the Ugly Ed team is a model of overstated ballyhoo and military drill team efficiency.
Before the lady has her engine turned off, they're at work on inspections:
"Tire pressure?," one team member yells to another.
"36. CHECK!," comes the reply.
"Washer fluid?"
"FULL!"
"Wiper Blades?"
"CHECK!"
This goes on until a team member with clipboard sides up to the woman's car window.
"I'd like the $29.95 oil change special," she says pleasantly.
The technician tells her, sorry, but her Buick REQUIRES synthetic oil. That's extra. A lot extra from that furnished with the $29.95 "special" on the sign out front.
Her wipes blades also need replacing (he holds up three sets of potential replacements, each increasing in price, and marked something like "Not So Good," "Fair," and "The Very Best" and explains the potential road dangers of driving with inferior or defective wiper blades.
He then sells her nitrogen (instead of air) for her tires, two kinds of filters, coolant, and assorted other "critical" items.
"Nice dog you got there," he says, pointing to the lady's gray muzzled black lab in the back seat. "But the old guy kinda smells a bit, don't he?"
He extends the clipboard with bill through her car window, "Just sign right here and we'll get ja goin."
Her eyes flare wide, a startled look on her face.
But she signs the bill and hands Ugly Ed her Visa card.
I'm thinkin: The dog aint the only thing that smells here.