April 05, 2016
'Changling Lab' A Place of Art and Inclusion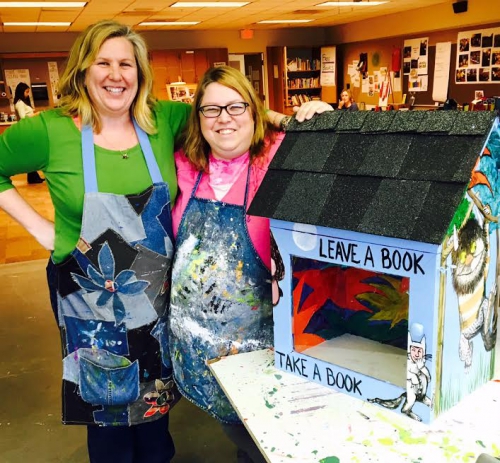 'CHANGLING LAB' A PLACE OF ART AND INCLUSION
by jim richmond
Photo: Sabine Ledieu (l) and Kimber Thompson are lead artists in Battle Creek's free form "Changling Lab' where all kinds of people, from all kinds of backgrounds and ages are creating art projects, many from recycled materials.
Here they proudly display one of their own creations, a Little Free Library (crafted by Thompson) that will be one of hopefully many to be located throughout Battle Creek, Springfield, Marshall, Albion, Athens and neighboring communities.

The small libraries are stocked with donated books available free, with a volunteer "steward' from the neighborhood or other nearby location who helps maintain each library.

This project -- one of many Sabine and Kimber are engaged in as volunteers -- is part of a national program of "Little Free Libraries", that now are in more than 32,000 locations around the world.
The Changling Lab is at the Burma Center, which is a former Springfield school and first site of the Battle Creek Math and Science Center on Upton Avenue.

The Center is open each Monday evening for visitors and those who want to get involved. Tonight, projects and people kept this large, former school building buzzing with the laughter and art activities of children and adults.
It is managed by and a cultural home for the more than 3,000 Burmese residents of greater Battle Creek.

Stop and visit on a Monday!
It's the kind of place that makes you happy and hopeful to be living in and part of a diverse, inclusive Battle Creek.
And it's going to be a good place to send my charitable donation to help them cover rent and other expenses!
For information: http://www.changlinglab.net