May 23, 2016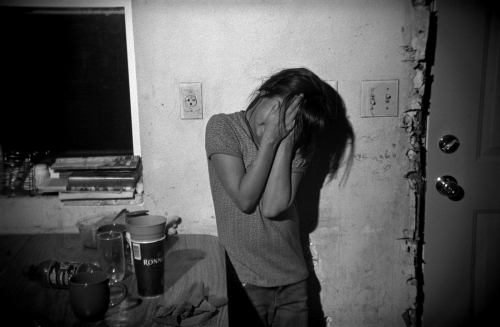 WAKE UP W. K. KELLOGG FOUNDATION
Broken families, hopelessness leads to, breeds violence, and both relative and absolute poverty.
Why are we not addressing the terrible terrible problems faced by black youth, and youth generally, in our Battle Creek neighborhoods?
Where are the systemic-focused programs with existing churches, social service agencies and others?
Where is the money, and the boots on the ground, to use a shopworn but accurate phrase?
When do we quit spending millions of dollars on outside consultants, and start supporting programs at the community level?
Where is the W. K. Kellogg Foundation?
At my last count the Kellogg Foundation has now spent NINE years, and gone through two CEOs, trying to figure out what to do to make a systemic difference in Battle Creek neighborhoods, and especially in the lives of children, and particularly children of color.
While it has thrown millions of money at countless planning organizations, consultants, conferences, busy work and marketing, in order to delay action and wash its hands of responsibility.
It was more comfortable, for a time, to spend its inherited fortune in South Africa and South America, than on South Washington or South 20th streets.
And what a seemingly rudderless ship since 1995?

Mr. Kellogg must be turning over in his grave.
Of course, it's not all about the Kellogg Foundation. All the planning, however, is an excuse to let the terrible local problems slide.
There's a lot of racism, bigotry, misogyny and lassitude from Goguac Lake to Gull Lake.
This weekend, I heard one of these same well off folks who doesn't live near or see the problems, have the guts, temerity to criticize what Rev. McCoy is trying to do with New Level Sports on W. Michigan Avenue.
We need more Rev. McCoys.

More Clifton Bullocks. More Jack Mawdsleys. More William Baileys. More Sojourner Truths. More Bill LaMothes. More Maude Bristols. More Russ Mawbys.
And more leadership AND ACTION from One Michigan Avenue East. (Take a look at what the Kauffman Foundation is doing in its hometown Kansas City.)
I should take a long walk and burn off this anger.
"Relax more about (that) stuff (at age 71)," a long time Battle Creek female friend urged me recently.
When they shovel dirt over the top of my grave.
AUTHOR'S NOTE: These are strictly my personal views. But I spent almost 9 years on the Kellogg Foundation staff, including as its Vice President for Battle Creek Programming, and later as President/CEO of The Frey Foundation, and President/CEO of the Battle Creek Community Foundation.
May 17, 2016

THE LAST FREMONT SCHOOL BELL
TOLLS FOR THEE AND ME
by jim richmond
I drive by Fremont School two or three times a day, and its students and parents walk by my apt daily. Happy together.
With the trees and shrubs coming out now, the School -- one of the oldest in the Battle Creek system -- is elegant, stately, beautiful -- and small.
It is one, if not the only, socially, economically, racially and inclusive elementary schools left in the BCS District.
So next month, it will close. And its students stuffed into busses to another larger elementary school next fall.
Perhaps, I was misguided to think small schools, small classrooms are what we wanted for our children? For their success. For their futures.
In the end, as in so much, money talks.
Educationally? I'm not so sure this was such a wise, thoughtful decision. For the Fremont children.
So soon the last school bell will ring at Fremont.
Nunc Lento Sonitu Dicunt, (Now this bell, tolling softly for another, says to me.)
And indeed the bell tolls for me, for thee, and for our children.
May 09, 2016
Trash Talk and Scamming at the VA Hospital:
"I JUST SLAP-SHIT OUT OF HER"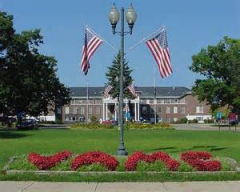 by jim richmond
Sitting for several hours the other late evening in the "Urgent Care" waiting area of the VA Hospital here in Battle Creek, Michigan, I was having trouble breathing.
But figured the other 15 or so in this large waiting area, with chairs ringing the wall probably were having their own health challenges as well.
I tried to curl up emotionally and mentally, but still was ruminating between reading a Kindle version of a Doris Kearns Goodwin book, and turning increasingly incensed at the loud, profane talk of a group of other vets waiting in the area.
No, not young Iraq vets. Old men like me They weren't watching the TV on the wall, or minding their own business.
Instead -- whoever listening be damned -- they were Mother-fucking this, kiss my ass that, laughing how they were conning the VA to get higher disability payments, exchanging tips on applying 40 years late for PTSD compensation linked to their Vietnam era service, self righteously complaining about waiting too long, about the poor quality of VA care, and telling oneupsmanship tales of kicking the shit out of women for holding back money or keeping their legs tight together.
I and one other vet moved as far away from the the group of about 15 or so as possible, almost down the hall to the photos of Michigan Congressional Medal of Honor winners.
I finally got up, walked to the intake worker behind the glass screen and told her to take "Richmond" off the waiting list.
"Where ya going?" I asked the other vet who had moved over away from the noise.
"Trying to get a ride to Community Care (senior home) by Dickman," he replied.
"Come on," I said, "let's get the hell out of here."
I'm not snichin or telling stories out of class in this FB post.
This morning I called the Patient Advocates office at the VA and went over this tale. A vet herself, she agreed with my criticism, assuring me it was quite different during normal clinic hours in the waiting room..
I hope that as she suggested, my experience was just anomaly.
If not, there's probably a lot of folks scamming the VA system.
As I told the lady on the phone this morning, I may have hated serving during the Vietnam Conflict, but I appreciate what I get from the VA.
Serving your country is a duty and a responsibility.
It doesn't "entitle": you to scam the system for every dollar you can squeeze out of it.

AUTHOR'S NOTE: Turned out I probably had pneumonia and was treated the next day at the same VA Hospital, by my Primary Care Team Leader and Nurse Practitioner Lisa D., who made a place on her schedule to see me right away, and got me started on a 5-day dose of "overload antibiotics." That's the kind of thoughtful care that has been the "norm" of my experience the past 15 or so years at VA facilities in Battle Creek, Kansas City, Albuquerque and San Francisco.
May 02, 2016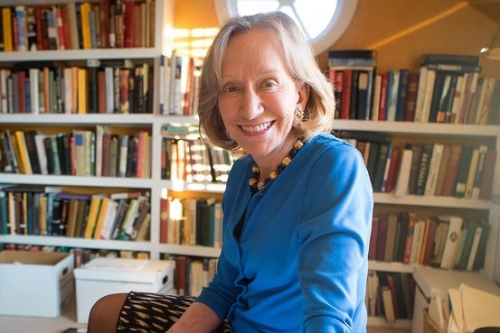 DORIS KEARNS GOODWIN IS BACK
by jim richmond
Few, perhaps, would have Doris Kearns Goodwin as one of their near lifelong professional heroes.
I do.
Tainted somewhat by claims from several authors that two of her books used their passages without citation, Goodwin disappeared from the PBS News Hour 15 or so years ago.
She is back. Aged 73, and now on the Sunday morning TV political roundtables.
Like George Will, you at minimum must admire her range of knowledge on American political history.
And her shared loved of and writing about American baseball.
The range of her Pulitzer-winning biographies stands with the best.
I've read them with admiration, inspiration, and gained new understanding about our leaders and our political process:
-- Lyndon Johnson and the American Dream.
-- The Fitzgeralds and the Kennedys: An American Saga.
-- No Ordinary Time: Franklin and Eleanor Roosevelt: The Home Front in World War II.
-- Wait Till Next Year:Team of Rivals: The Political Genius of Abraham Lincoln.
-- The Bully Pulpit: Theodore Roosevelt, William Howard Taft, and the Golden Age of Journalism.
As some of you know from my past newspaper columns, ragstorichmond blogs, and FB posts, I look for and write about personal unselfishness and goodness in people and their relationships, if I'm often lacking in those qualities myself.
Goodwin taught for 10 years at Harvard. Then made an unusual, unselfish choice. She resigned from Harvard.
With small children, Goodwin decided she wanted to be home with them in their growing up years. So she reserved mornings to research and write.
She was at the school bus when her children came home. Afternoons and evenings were for her family.
As a result, Goodwin spent 10 years writing the Fitzgeralds/Kennedy opus.
From Irish immigrant stock, she goes to 50 Boston Red Sox games a year.
Goodwin still has the same husband after 40 years; and describes how she cherishes that relationship and her children.
She is not a perfect role model. (Is anyone?) But she is all I wish I could have been, and more as a writer and a person.
And yesterday morning, as I watched Doris Kearns Goodwin on one of the TV roundtables, her analysis, knowledge, attitude and smile lit up the discourse.
How delightful it would be to have dinner with her some time.