April 20, 2016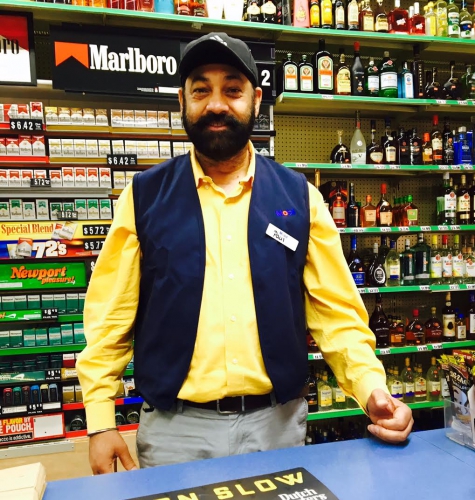 "THANKS, BATTLE CREEK!"
Paul Singh moved to Battle Creek 23 years ago, after driving a cab and working in a New York City convenience store.
"I wanted to find a quiet, friendly place. That's Battle Creek," Singh told me this morning, who now owns 8 area gas and convenience stores, including a new one at the west side intersection of Van Buren and Michigan Avenue.
He is also proud of being President of the local Sikh Temple.
Singh said it took him eight months to build and open his latest convenience store, which is always spotless, with an unusually large offering of food, pop and liquor.
He sells Mobil gasoline. "See, it's $1.95 today," he said, pointing with pride to an outside pump. "Mobil costs me a penny and a half more, but it is very good gasoline."
He was pitching in this morning, he said, because his regular morning clerk, Amber, had called in sick.
Amber always has a smile when I drop in each morning.
April 05, 2016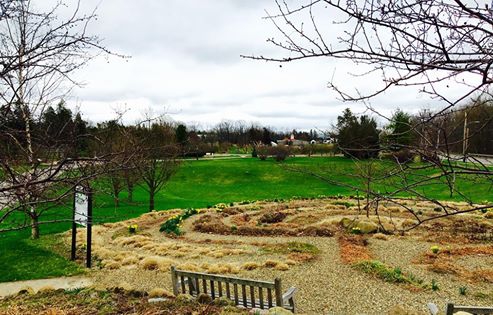 Leila Arboretum Gets Set for Big Changes, Attractions in 2016
Yesterday, I took my first spring walk around the 1-mile loop at Leila Arboretum here in Battle Creek, Michigan. A favorite activity for many others, especially seniors like me!
A bit chilly but sooooo refreshing to view the more than 3,000 trees, dozen-plus gardens, and to chat with Arboretum CEO Brett Meyers about lots of exciting music, art and nature education happenings, plus physical changes for the year ahead!
This view along the pathway, looking east from the Arboretum's unusual Peace Labyrinth, will be transformed dramatically in coming months, as phase 2 of Battle Creek's three-.day Fantasy Forest art carve takes place this June, adding 10 to 12 additional fantasy themed tree sculptures, a new musicial stage and landscaping. Thanks to many generous Battle Creek donors and volunteers, Myers said.
The West Michigan streetscape of the Arboretum will also be opened up, improved and enhanced towards downtown Battle Creek, spotlighting the Children's Garden, and for the first time visually uniting the total Arboretum streetscape along busy W. Michigan Avenue.
An exciting year ahead for the 85-acre Arboretum, Battle Creek's "Westside Gem," that draws 80,000 visitors a year -- many from out of town -- and recently was recognized as one of the top 10 public gardens and arboretums in the state of Michigan.

Hope to see you and say "hey" on a walk there one of these days.
We're ready for spring in west Michigan, aren't we? :-)
For more information about the Arboretum, and the Fantasy Forest art carve:
https://www.facebook.com/all.creatures.wood.and.tall
http://lasgarden.org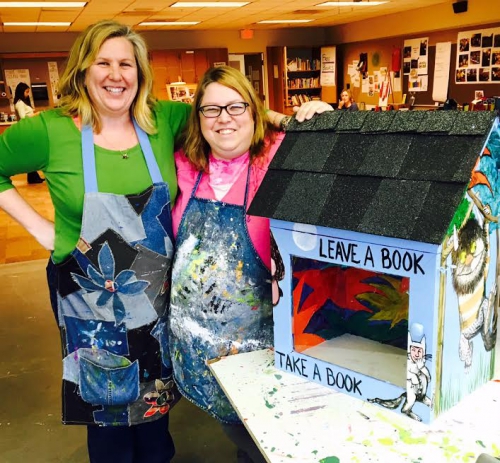 'CHANGLING LAB' A PLACE OF ART AND INCLUSION
by jim richmond
Photo: Sabine Ledieu (l) and Kimber Thompson are lead artists in Battle Creek's free form "Changling Lab' where all kinds of people, from all kinds of backgrounds and ages are creating art projects, many from recycled materials.
Here they proudly display one of their own creations, a Little Free Library (crafted by Thompson) that will be one of hopefully many to be located throughout Battle Creek, Springfield, Marshall, Albion, Athens and neighboring communities.

The small libraries are stocked with donated books available free, with a volunteer "steward' from the neighborhood or other nearby location who helps maintain each library.

This project -- one of many Sabine and Kimber are engaged in as volunteers -- is part of a national program of "Little Free Libraries", that now are in more than 32,000 locations around the world.
The Changling Lab is at the Burma Center, which is a former Springfield school and first site of the Battle Creek Math and Science Center on Upton Avenue.

The Center is open each Monday evening for visitors and those who want to get involved. Tonight, projects and people kept this large, former school building buzzing with the laughter and art activities of children and adults.
It is managed by and a cultural home for the more than 3,000 Burmese residents of greater Battle Creek.

Stop and visit on a Monday!
It's the kind of place that makes you happy and hopeful to be living in and part of a diverse, inclusive Battle Creek.
And it's going to be a good place to send my charitable donation to help them cover rent and other expenses!
For information: http://www.changlinglab.net