January 27, 2013
Shopping at Meijer's:
"I JUST SHOVE THIS CRAP INTO THE PLASTIC BAGS"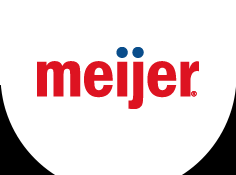 So I do my monthly staples trip to Meijer's early this morning. And go through a line. A woman with lots in front, and another in back of me.

Evidently Meijer's having a two-day sale, and the gal in front was questioning why there was no discount on an item.

The Meijer's clerk replied: "I don't know. It's all automatic. I just shove this crap into the plastic bags."

I laughed and said, motioning like I was reaching into my cart, "Well, maybe I should take some of this 'crap' back to the store shelves."

I am not humorless; but I think customer service and employee attitude is REALLY important.

Maybe I should look for a job as a "mystery shopper."

:-/
Booty -- or Curtain
-- Call ?
*Sarah had energy, style, intellect, beauty and assertiveness.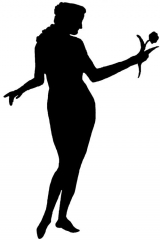 So I asked her out on a date. We were adults; middle age. Well read professionals.
We went to a movie the first night.
And then on the second date, I had tickets for a Michigan State University home football game.
In retrospect, I should have known something when she used the men's 'john' at half-time because the lady's line was 'too long.'
She bantered with the University boys in the line, and ignored the 'Woo Ha. Woo Ha," compliments that came her way...sauntering past the line of male back sides, smiles and urinals to the stalls.
Driving home from East Lansing, she invited me over the following weekend "for a casual, home cooked meal."
So I arrived the appointed hour, with a nice bottle of California Sauvignon.
And rang her door bell.
Sarah opened the door, wearing a skirt and a kitchen apron.
And nothing else. From the waist up.
She smiled and welcomed me. We went up the stairs to her lovely apartment as if there was nothing unusual or needed to be explained, commented on.
I sat in the living room, reading the paper; occasionally glancing toward the kitchen where she mixed salad and removed cheese casserole from the oven.
She warmed the dinner plates. Impressive. How many people in places like Battle Creek, Saginaw or Grand Rapids heat their dinner plates?
We sat across from each other, in candlelight, with soft classical music playing from nearby speakers, toasted the night, and enjoyed the meal.
Talked local politics. Favorite books. Job stuff.
And I thought, 'As odd as all this is, if she's not going to say anything, I'm not either."
We laughed knowingly over the fruit with rum sauce dessert, as if there was a third person at the table who didn't know our secret code or hand shake.
Around 9 p.m., it was somehow clear the evening was nighe over.
Sarah walked me slowly, casually to the front door.
Trying to delay things a bit, I bantered: "Do I get a rain check?"
She laughed, applying a chaste cheek kiss, "We'll see. This is just opening night."
Some time later, by delightful accident, I learned the first evening and Sarah's ensemble had little to do with romance or sex.
She'd recently had breast implants.
And this was opening night. Like a Broadway Show.
Guess if I looked that good, I'd want the right people to see The First Act.
All I could think about that evening was whether this was a Curtain --or perhaps Booty -- Call.
----
*name and minor details changed to protect privacy.
January 23, 2013
Somehow, I missed Jane Wyatt's death notice a few years back.

Wyatt was 96 years old when she died; and I've followed her career for much of my own 68 years.

Wyatt was Ronald Coleman's love interest in the famous '30s film, Lost Horizon; but was perhaps best known as mother Margaret Anderson in the 1950s tv show "Father Knows Best," with Robert Young in the lead role.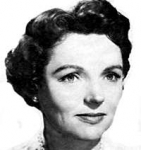 Wyatt, Young and their three onscreen children did more than 200, 30-minute tv programs from 1954 to 1960. An exhausting schedule that was not without its bumps along the way.

The two were friends, admired each other; but never socialized off the set, and, in real life, their three tv show children lived problemmatic lives.

The Father Knows Best program was criticized in the '60s and '70s as being too middle class, too white, too stereotype.

But growing up, I loved the show.

And I sort of loved Jane Wyatt from a distance over all these years. And I'm not sure why. (I'm sure a shrink would have plenty of suggestions.)
Once or twice a year, I'd go to Wikepedia or 'Dead or Alive' websites, just to check that Wyatt was still around and to read up on her very occasional movie or tv credit, as late as 1986 in one of the Star Trek flicks.

I particularily admired Wyatt for standing up to Senator Joseph McCarthy during the communist witch hunts of the early 50s.

I admired her for her life long commitment to her husband of some 62 years; and to her children.

She was also always very candid in her observations about the moview business, self deprecating, grounded, honest.

She died quietly in her sleep.

A wonderful life, and a nice last scene, for a fine actress and human being.
January 18, 2013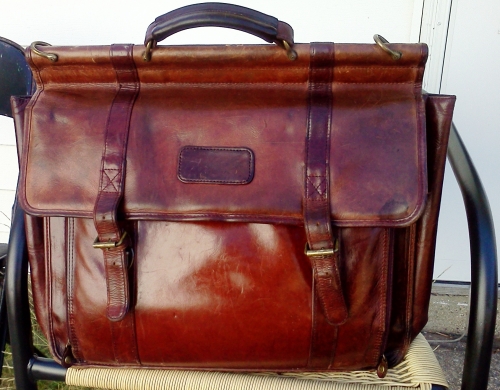 Rite of Passage
In the late 80s, I was very successful as CEO in "growing" a struggling NGO in South Carolina. Then recruited for another job, I informed my Board, and was told they were having a "community thank-you party" in my honor.

"What would you like as a gift? We are all chipping in," my Board Chairman asked me.
A bit taken aback, I replied: "Well, I've always wanted a leather briefcase."

So, at the event, my Board presented me with this leather briefcase.
A few days later, I took it into where it had been purchased, and asked what to use to clean it. The clerk commented: "Take good care of that.... you might want insurance. It's the best we have."

I asked: "Just curious, how much did it cost?"

The clerk replied: "Oh, about $825."
I about swallowed my dentures.

So, 27 years later, I'm giving it to my son, when I see him next Saturday.
Hope it brings him as much luck as it has me over the years. It has traveled many career paths since...and the world; stained with late winter snow in St. Petersburg, Russia; pelted by hot rain in Shanghai, China; and battered, buffeted and abused by baggage handlers in Cali, Columbia.

It needs a good, new home, too ...a fresh start and new life... carrying "important" papers and weekend reading assignments.
And there is no better place for it to call home than with my son, Josh.
January 13, 2013
Remember The Red River Valley
"Eddy," asks, like clockwork, as he helps pass out food trays and refills small glasses with watery apple juice.
And again at evening time: "What cha doin after dinner, Phil? Goin outside?"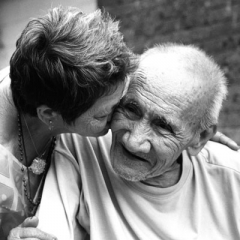 At breakfast, about 70 seniors, most with noticeable physical and/or mental challenges, wait patiently for staff to distribute small containers of pills.
Kitchen helpers roll in large metal warmers, containing tin trays, with scrambled eggs, sausage, a piece of toast, jelly, butter, and glass of juice.
Everyone waits patiently, 3 or 4 residents to a table, for the food. For the food is the focus on the day -- three times a day for those in this 'assisted living facility.'
"What cha doin after breakfast, Bill? Goin outside?"
"What cha doin after breakfast, Sally? Goin outside?"
The facility serves poor seniors; and those with emotional and physical problems that would bar admission or acceptance elsewhere.
There is no airconditioning in the congregate dining room in the summer, and a chill fills the room this winter morning.
You're reminded of life changes and lessons in a 'retirement home'. About caring. Weaknesses. Emotional strength and friendship in the face of aged bodies, missing legs from diabetes, missing brain power from onset and end stage dementia.
Residents and low-paid staff are much like family. Usually cheerful, upbeat, encouraging, good listeners. Occasionally loud, unhappy, jealous, brusk.
Then tonight, the late day sun peeks in the first floor dining hall ….as residents eat hamburgers with tomatoes, onions, mustard and ketchup, applesauce, and a single, round cookie the size of a quarter.
This lovely, at one time elegant, elderly lady with red hair had sat, just this morning, with her small table group of resident friends across the way; smiling, engaged, animated.
Now, she sits at the same dinner table, head half bent forward, resting on her chest, eyes blank, untouched food before her.
In the distance, are the faint sounds of the auto organ in the recreation room, playing "Red River Valley":
From this valley they say you are going
We will miss your bright eyes and sweet smile
For they say you are taking the sunshine
That has brightened our path for a while

Come and sit by my side if you love me
Do not hasten to bid me adieu
But remember the Red River Valley
And the cowboy who loved you so true

Won't you think of the valley you're leaving
Oh how lonely, how sad it will be?
Oh think of the fond heart you're breaking
And the grief you are causing to me

As you go to your home by the ocean
May you never forget those sweet hours
That we spent in the Red River Valley
And the love we exchanged mid the flowers
January 08, 2013
A Good Day To Wear My 'Fighting Irish' Sweatshirt
Notre Dame was outplayed by Alabama on the football field last night.
But it will never be outclassed after a football loss -- just as other great universities and programs never will be, when they lose -- the University of Michigan, Michigan State, Stanford, Northwestern, Boston College....to name just a few.
I'm going to proudly wear the green ND sweatshirt today, the one my son gave me for my birthday. And keep a smile on my face.
Because, my love of Notre Dame and the Irish has to do with what the University and its football program stand for: values, treating athletes like students, insisting on performance in the classroom as well as performance on the field.
Go Gold and Blue. Green and White. Maize and Blue. Purple and White. Cardinal Red. Maroon and Gold.