August 29, 2014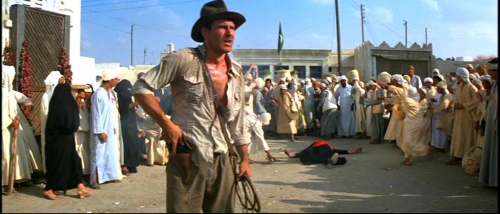 Men's 'War' Stories
"I'm not surprised George had the affair," my female friend said. "He found someone new who'd listen to and appreciate his war stories."
George, married 40 years to Sue, had been caught through credit card receipts, having an affair with a young office assistant. They'd been working long hours together on a business deal and evidently pursuing each other around bedroom posts at the "Wee Hours Motel."
My friend's hypothesis is that many older men like George have little left, late in life, but their ego and their "war stories," that they'll shamelessly repeat to near anyone who'll listen.
"I'm attentive and smile, when my husband starts on one of his war stories to others at a social dinner," she continued. "At home, I pick up the newspaper or leave the room. He could be talking to a fence post. In fact, he'd tell the stories to a fencepost."
She claimed wives also routinely hear spouses take their rather mundane life experiences and turn them into grand adventures worthy of Indiana Jones in Raiders of the Lost Arc -- embellishing with fictional details to make them more interesting, self important.
"You know what I mean," she said, "like how they'd tripped out on Acapulco Gold at Woodstock when they'd really watched Woodstock from a bar stool and TV set in Akron, or been a combat platoon 'point man' in Vietnam, when actually they got shot in the ass on third day In-County and shipped permanently stateside with a band aid and a Purple Heart."
You seem a little angry. Does this topic touch too close to home? Don't women have war stories? I replied.
"It's different with us," she said. "Women may dominate conversation but we're interested in relationships, small, daily living stories. We don't have to talk about bagging an 8-point deer or a 28-year old office assistant."
She stared into my eyes, winked: "Bet you got war stories. Don't you, Jim? Any 28-year old assistants behind those glasses?
Hey, Jim?"
Me?, I replied, pausing to take a slow, languid bite out of my Ritzee oliverburger.
Well, there IS a good one about breaking my leg, at age 14, tee-peeing my girlfriend's house in the rain. One about living up the street from Janis Joplin in San Francisco. Interviewing Michael Caine and being an extra in a war movie in the Philippines.
Let me tell you the one about Chinese Police knocking on my door in Hong Kong…
August 27, 2014
Falling out of love and grace with college football:
THE CONFESSION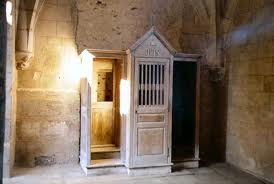 by jim richmond


Bless me, Father, it's been 47 years since my last confession.

That's OK, my son. I'm sure you've much to confess. Go ahead now. Take your time.

Well, Father, my biggest sin has been my most recent sin.

Yes?

Oh, I'm so ashamed, Father.

Take a deep breath, my Son.

Did you commit adultery?

Did you lay down with a four-legged beast?

Did you rob, plunder, rape, kill?

Oh, I've heard it all in this Confessional. You'll feel relieved. A weight will lift from your soul and your conscience.

Well, Father. I think I no longer love college football.

WHAT? Have you not tried to control base impulses, emotions that threaten our beliefs, the core our society?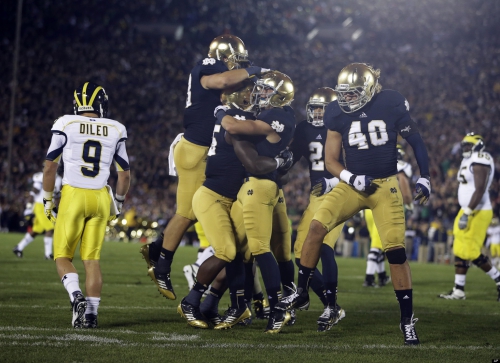 Yes, Father. OH HOW I'VE TRIED! Just this week, I watched 5 minutes rerun of the Michigan vs Kansas State Game. 7 minutes of the Notre Dame vs. Rutgers game.
And then what did you do?

I turned off the TV.

YOU TURNED OFF THE TV?

You live in Michigan? You grew up as an Irish Catholic Altar Boy?
What if other family, friends, learn of your sin, my son?
The police may make you wear an ankle monitor and report weekly to a Probation Officer.

You'll no longer be invited Saturday afternoons at Buffalo Wild Wings.
You would lose the social topic and context that binds all America together each fall.

Father, what shall I do? How can I repent?

My son, I'm sworn by Priestly Vows to never reveal what's said to me in this Confessional.
Go home.

Think about God's Glory and Love that radiates like a mantle of Holy Grace over campus football stadiums, and will do so next Saturday around this great country.
Complete The Act of Contrition.
Close your eyes and hear as thousands sing The Victors in the Maise and Blues' Big House.

Bring back the sights and sounds of the Irish Guards and cheerleaders leading thousands into the Notre Dame stadium, all singin:
Well I remember the leaves a fallin'
And far off music like pipes a callin'
And I remember the golden morning
I saw the long ranks as they were forming

And there's a magic in the sound of their name
Here come the Irish of Notre Dame

The pilgrims follow by the sacred waters
And arm in arm go the sons and daughters
The drums are rolling and forward bound
They're calling spirits up from the ground

And there's a magic in the sound of their name
Here come the Irish of Notre Dame
Think of those warm fall days, beer kegs and barbecue in the Touchdown Jesus parking Lot.
Fall in love again with college football.
Do I hear something?

What, Father?

Oh, my son, it's sweetest melody this side of Heaven.
Just listen: https://www.youtube.com/watch?v=Ff8CUSH2GNI
August 26, 2014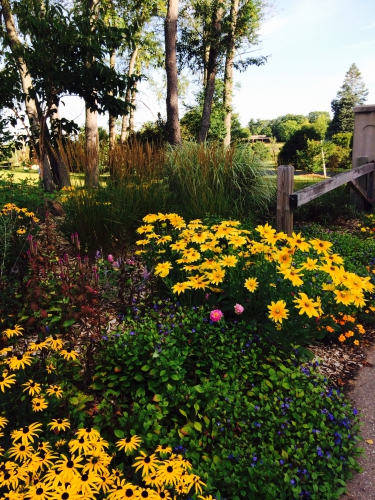 Leila Arboretum More Than Breeze
Through The Trees
by jim richmond
Don't get me wrong: The Leila Arboretum in Battle Creek is southwest Michigan's "jewel of nature" with 85 acres of trees, 11 flower gardens, pathways, disc golf course, dramatic hillside pavilion, children's garden, 6,000 foot heated greenhouse and a horticultural training center.
More and more, it's the favorite outdoor public location for weddings and group events.
But few know it's also site of two pioneering programs in urban gardening – one that teaches city residents how to grow and sell produce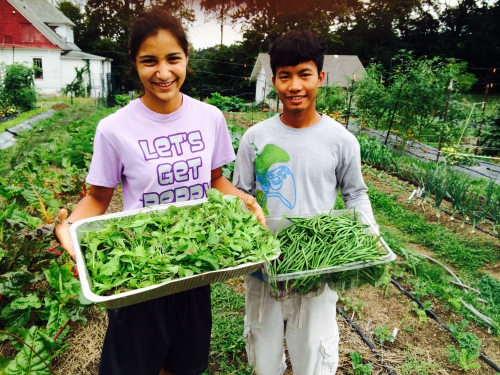 raised in their own backyard gardens.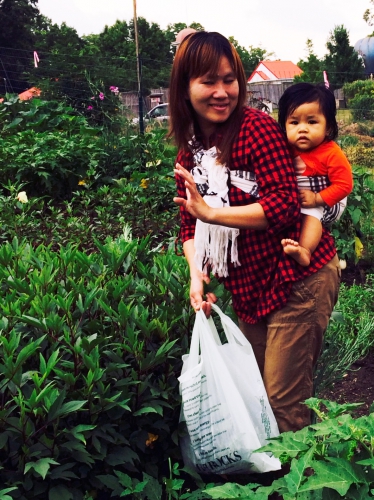 And another, the Urbandale Community Vegetable Garden, where scores of citizens – including 44 immigrant Burmese families – raise their own produce on small collective plots, and which also supplies fresh produce for the area Food Bank and other outlets for people with little access to fresh vegetables.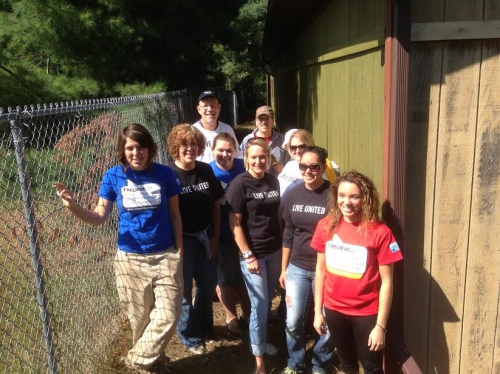 And there's more than just flowers, trees, plants and produce growing at Leila this summer.
More than 20 high school age kids are working or volunteering there at the Arboretum – getting their hands dirty in the soil, finding out how and where the food they eat actually comes from, earning a little cash for school, learning to show up on time, work with others, be successful in what they do….today…tomorrow… perhaps for a lifetime.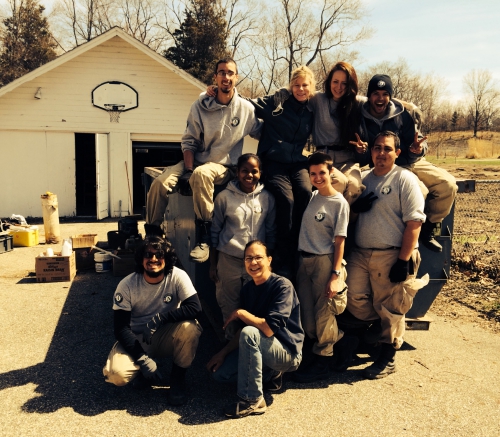 Several of the summer programs involving youth are supported through grants from the Binda Foundation, Miller Foundation, Battle Creek Community Foundation, Fair Food Network, and Post Foods.
August 09, 2014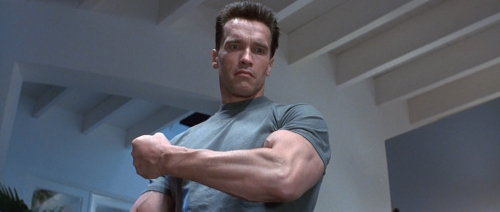 "I GOTTA DO TWO (2) WITH MY TRAINER"

In the past month, three people have casually mentioned to me they had a "personal trainer." As in, "I'll call you back, I gotta do 2 (hours) with my trainer."

I perhaps unfairly imagine these trainers as beefy, buff, Vaseline gleaming, glowering, horse teethed versions of erstwhile actor and WWF wrestler Duane ("The Rock") Johnson, or perhaps no nonsense Arnold Schwarzenegger before he thought he could run America's largest state, and diddle the maid's skittle while Maria was doing the TODAY Show.

I thought personal trainers only worked with people like Brad Pitt, Angelina Jolie, George Clooney or Holly Hunter.
Now I find out lots of folks have trainers to help buff up those quads, and generally feel better about themselves.

Even to help keep a watchful eye and say "no no" over your bad lifestyle habits.
Well, I don't want Arnold looking down at me and smirking: "OK, Jimmy. Five more reps. And I'll be back to check."


With my luck, the "trainer" would also probably insist I put back that half gallon of All Natural Bryer's Peach Ice Cream, more rarely available in Meijer's (except August and September) than Hank and Lena Meijer (may they rest in peace).

And, I keep remembering what messy hell John Travolta got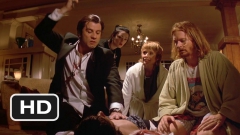 himself into trying to be a trainer for Urma Thurman in PULP FICTION.
I can stand corrected and try to be more open minded about all this...

Meanwhile, think I'll have another little bowl of that Bryer's Peach before bedtime.
August 02, 2014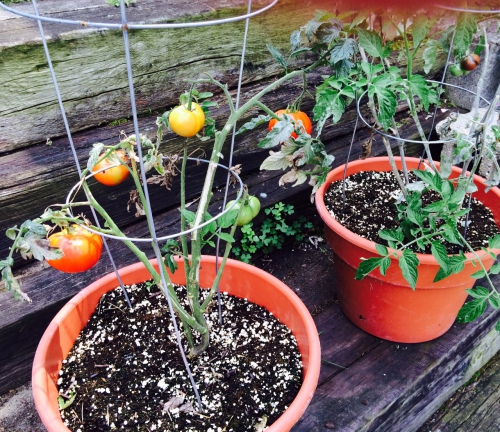 POTATOHEAD OF A TOMATOHEAD

So, this is my first year "harvest" of tomatoes at my home apt. place here in Battle Creek

This from a guy who works at an 85-acre Arboretum with 2 community gardens, a 6,000 square foot heated greenhouse, 3,000 trees, 11 flower gardens, and teaches home gardening and a Master Gardeners Course.

Slow learner or what?

I've been there two years. It took me two months to properly say and spell "Arboretum". (I'd always thought arboretum was the name of the water tank for the guppies you got from Walmart)

No wonder the Arboretum staff hides me in the bathroom when there are important visitors.

I think it's time for a little continuing education. Perhaps starting with photos and phonic cue cards.